How to write a five minute speech is a task that involves precise delivery, detailed planning, and intelligent drafting.
Preparing to deliver a powerful speech in only a few minutes might seem impossible, but it is possible. Writing a compelling and memorable five-minute speech is easy if you understand what makes one work.
Here, we discuss tips and tricks professionals use to write an effective and engaging five-minute speech. With these simple steps and guidelines, you can craft a captivating speech quickly and easily.
Why You Might Need to Give a Five-Minute Speech
A five-minute speech might be necessary for specific situations. Where you're limited by time, you'll still need to effectively communicate your points and accomplish your objectives within your allotted time.
Here are some reasons why you might need to give a five-minute speech.
Time Constraints
Giving a five-minute speech allows you to convey your message within the allotted time frame effectively. One reason to give a five-minute speech is that you may be required to do so due to time constraints. You may be given a specific time slot if you are asked to speak at a conference or event where multiple speakers are scheduled.
Limited Attention Span
Another reason to give a five-minute speech is that it allows you to capture and maintain your audience's attention. Studies have shown that the average attention span of an adult is around eight seconds. This means making your message clear and concise to keep your audience engaged is important. A five-minute speech lets you do just that by presenting your ideas concisely and straightforwardly.
Practice and Improvement
Giving a five-minute speech can help you improve your communication skills. It is also an excellent opportunity to practice and improve your public speaking skills. Focus on delivering a clear and compelling message within a shorter period, so you can build confidence and improve your speech.
Impact and Persuasion
Finally, giving a five-minute speech can be an effective way to make an impact and persuade your audience. By presenting your ideas clearly and concisely, you can more easily convey your message and persuade your audience to take action. It's possible to win your colleagues' hearts and minds by giving a short speech.
How to Write a Five Minute Speech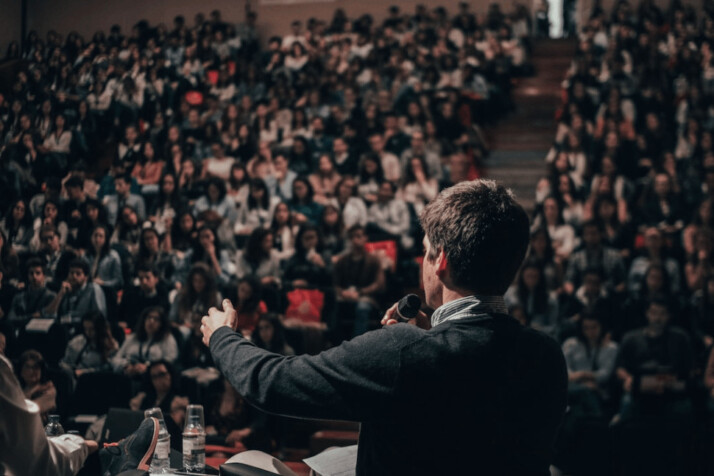 Writing an effective five-minute speech can be a daunting task. After all, you want your audience to stay engaged and not become bored or disengaged. It's crucial to organize your speech as well as possible to make sure that your message gets across to your audience.
The following tips will help you create a five-minute speech that will leave your audience wanting more!
Choose an Interesting Topic
The first step in writing a successful five-minute speech is choosing an interesting and relevant topic. Try to think of something timely or engaging that your audience would find helpful or entertaining. You could also research popular topics from other speakers or news outlets to get ideas. Once you have chosen a subject for your speech, make sure to narrow its scope to fit within the time limit.
Research Your Topic
Become knowledgeable about the subject by reading related articles, watching videos, and listening to podcasts. Once you've identified your topic, start researching it in depth. This research process should help inform your opinion and give you new perspectives on the issue. Additionally, try to pick out key points that may bolster or strengthen your argument.
Gather Supporting Evidence
When crafting a persuasive five-minute speech, having compelling evidence is essential. Just make sure that any evidence you use is reliable and accurate.
Include examples and facts to back up your statements whenever possible. This will make your arguments more convincing and give your audience a stronger impression.
Outline Your Speech
Before starting to write, take some time to plan out what you are going to say. Writing an outline helps break down the information into smaller chunks, making it easier to organize when composing the actual speech.
The outline should include the main ideas you plan to discuss as well as any other supporting points during your presentation. Plus, creating an outline beforehand will also save you time in the long run.
Craft Your Introduction
Your speech's start should draw the audience in and establish the general tone for the remainder of it. Keep it short, sweet, and memorable. What you say in the introduction will resonate with your audience. Your introduction serves as a good bargaining chip for great content.
Write the Rest of the Speech
Since you have already conceptualized your structure and created a rough outline, it's time to start filling in the blanks with real content. Make sure the introduction flows seamlessly from your introduction to your conclusions.
Five-Minutes Speech Example
Good morning, everyone! Today I'm here to talk about the importance of cultivating a collaborative work environment in our office. As we all know, teamwork is integral to any successful business venture. We must foster cooperation and mutual respect to reaching our desired objectives.
I have plenty of professional experience working collaboratively. From facilitating negotiations between stakeholders to encouraging colleagues to unite under common goals, I understand how important it is to nurture cooperation within teams. Furthermore, while working in high-pressure situations, I've seen firsthand how camaraderie can help alleviate stress and bring out the best in people.
So let's start by discussing ways we can increase collaboration amongst ourselves:
First, we must actively listen to each other instead of rushing to judgment or being overly critical. This will ensure that everyone feels comfortable speaking up and sharing their ideas without fear of judgment.
Second, we must always strive to be open-minded and welcoming towards new perspectives as they often present solutions that would otherwise not be considered.
And finally, we should practice respecting one another's time and workloads. This way, we can ensure that everyone gets their tasks done on schedule without impeding others.
These simple actions can create a workplace culture characterized by harmony and synergy rather than competition and antagonism. So let's commit to making this happen together – thank you very much for your time!
Conclusion
Learn how to write a five minute speech that captivates your audience. Careful preparation and practice are essential.
Choose a relevant and exciting topic, organize your thoughts, use supporting materials, and rehearse your delivery. Improving your public speaking skills and making an impact are great reasons to give a five-minute speech.
With the proper preparation, you can deliver a powerful message that achieves your goals. The key is writing with emotion, ensuring each sentence contains at least one uncommon word. This will add interest and uniqueness to your presentation.
Explore All
Write A Speech Articles