Are you preparing for the grand launch of your new clothing line? Have you created an excellent marketing strategy for its publicity? If not, you might want to consider looking for a fashion press release example to learn how to promote your product effectively.
Various media platforms have given many opportunities for companies to promote their products on a broader scale. Press releases are one of the most crucial marketing pieces businesses utilize to promote their brands. If you own a clothing line or fashion-related enterprise, you'll find using such a method helpful for your marketing strategy.
This article will show you how to make a fashionpress release example.
What is a Press Release?
A press release is a short, compact article distributed by a company or publication with information about an event or a product. It's a kind of promotion to educate a target market about the brand.
The contents of a press release are aimed at garnering media attention. They are sometimes used as merchandising tools to promote a brand or product.
A press release is more produced in the mainstream press than in specialized publications.
What is a Fashion Press Release?
A fashion press release is a particular type of electronic media release distributed by designers and brands to the media.
Designers and clothing lines use this press release to provide updates, product plans, and other information related to their products.
You can use this press release for your new fashion product's launch.
How to Write a Fashion Press Release
Specify Information
Consider specificity when it comes to your press release. Your fashion launch should make people feel excited about what you have to offer and why they should sit up and pay attention.
This is why you want to focus on shedding light on the following assets:
What is the sheer quality of your products or services?
Example:
Athena's Clothing Line uses recycled plastic bottles and straws to produce its world-class quality clothes.
What makes your products and services unique?
Example:
Athena's Clothing Line is the number one environment-friendly clothing company worldwide.
What aspects of your product would make it desirable to prospective customers?
Example:
Athena's Clothing Line help save Mother Earth from plastic waste and reduce humankind's carbon footprint. We do this by recycling your plastic waste into world-class quality clothes.
Clarify Actionable Details
Your press release must be clear and actionable in every process. You'll need to answer exact questions about your launch and why it matters to people.
Example:
Why attend the Athena Eco-Friendly Evening Gown launch? Get a chance to receive a free Athena Eco-Friendly Evening Gown for you and three other friends. Experience how it's like to care for Mother Earth.
In addition, you might want to include an image in your press release. It helps you emphasize your point more and make it more interesting to interact with.
In fact, fashion is a highly visual industry, so your creative press release should appear eye-catching to your target audience.
Beautify Your Content
Aside from adding an image to depict your event, you may also use other designs to make your press release as creative as possible.
Since fashion equates to creativity and artistry, it's meaningful to remember this tip.
Fashion-focused press releases are great. You can make it better if you add more beauty to the layout.
However, it would help if you remembered to keep it in a regulated amount. Adding too much design to your press release might overwhelm your target audience.
Remember, it's a product launch, not some teenage girl's 18th birthday party.
Fashion Press Release Example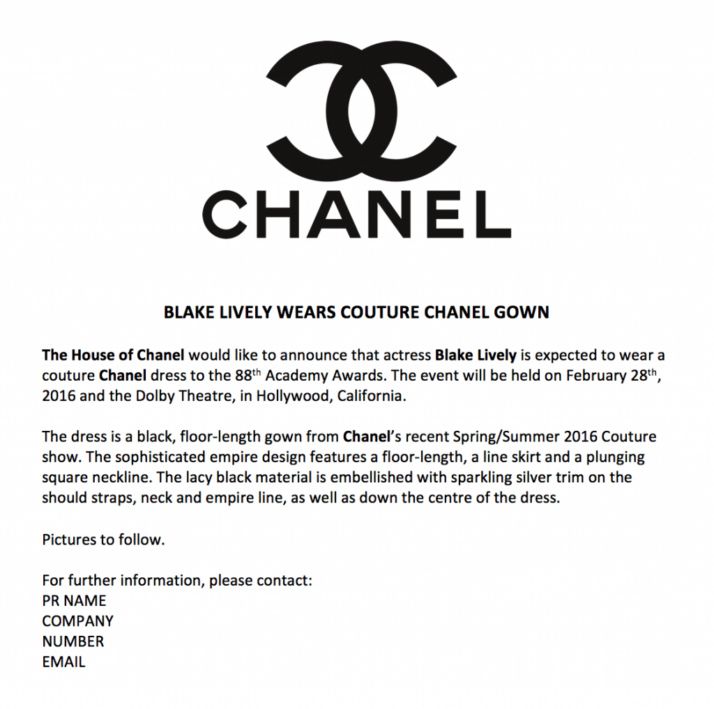 To Wrap Up
Press releases are excellent marketing materials you can use to promote your fashion product launch. You should use all available media platforms to publicize your new product to attract many potential clients.
You must remember three things in making a fashion product press release. These are to specify, clarify, and beautify your content.
A compelling press release for your clothing line is essential for your marketing strategy, whatever method you prefer to use.
Explore All
Press Release Intro Generator Articles