Whether you're just beginning your marketing efforts or looking to revamp your current strategy, press release is a vital communication tool. Building a solid business presence begins with a firm press release strategy. So, how do you publish press release?
This article helps you get started on the right foot by showing you how to draft and publish an awe-inspiring press release.
What Is a Press Release?
A press release is a written communication issued to distribute news of a person, event, institution, or organization to media outlets. The idea is to get relevant people and reputable media outlets to cover the story or to write about it.
Your press release provides updates about your company's products or services, organization structure, projects, partnerships, and others. With publishing, your press release can reach a broader audience. A company could use a press release to announce its product launch, an important development in the company, or other time-sensitive events.
Press releases are powerful ways to increase your impact on the search engines. They inform not just those in your local or niche area but anyone looking for your keywords, products & services.
The SEO benefits of press releases are a compelling reason for their wide use. An effective press release is a high-quality content that is focused and easy to engage with and understand.
How to Write a Press Release
The first step to publish press releaseis choosing a perspective that matters to your target audience. If you're targeting different audiences, write different press release versions.
Also, remember that you're also targeting journalists and not just your potential customers. Your writing style should fit the journalists you're targeting, so it's essential to research to find out what works.
The following are components you should note before you publish press release.
1. Catchy Headline
The headline is what determines whether your readers will read till the end. Since it is the first thing people will read, you'll want to create a hook with it. Use a captivating headline that propels the reader to continue reading. Your headline should make your readers curious; it should be exciting and intriguing.
2. Craft the Lead
An essential part of writing an effective press release is to craft the lead. This is where impatient readers will find answers to the most critical questions. These questions should help you prepare a compelling lead: what is the news about? Who is involved? When and where did it happen? And Why is it important?
3. Write the Essential Details.
Provide your readers with the essential details of what makes the press release newsworthy. Keep it short; only give a brief explanation that will get publishers or reporters excited to write about it.
4. Additional Details
If there's any relevant detail you want to include, it's time to do so. However, avoid overdoing it. Remember to keep it concise. Also, consider adding visuals and quotes to make your story even more intriguing.
5. Contact Details
Add your contact details to allow people, especially journalists, reach you. This is important because they might want to learn more about your company. Remember, you want to create chances of publishing your press release, so don't forget this part.
Benefits of Publishing Press Release
Distributing written content to mass media outlets – such as newspapers, increases the exposure of your company, building brand awareness and raising market value. Press releases provide an opportunity for companies to let the world know about an important happening in their company. They are a critical component of any marketing strategy.
The following are benefits you can derive when you publish press release.
1. Press Releases Can Boost Your SEO.
Press releases are crucial in helping promote your business and increase your visibility. They can turn an unknown website into a popular, authoritative website. Press releases can be helpful for SEO and can also be beneficial for building a portfolio with many positive keywords. The better words you can use on press releases, the higher you rank on search engines.
2. Increases Brand Awareness
By sending a press release to your targeted outlets, you increase your business, organization, or brand awareness. You are likely to reach more potential customers, visitors, and search engines through this means.
3. Press Releases Can Help You Gain New Clients and Make Sales
When press releases are published, they reach a wider audience. The information in your press release can convert your audiences into active customers.
A targeted press release can have a significant impact on your business. When launching a new product, you could use an innovative press release to create an interest in your readers. This will persuade them to make a purchase. You could also highlight discount or bonus offers in your press releases.
How to Publish Press Release
Distributing your press release is the best way to publish your press release and make it reach a wider audience. Be sure to write a press release that stands out and is well optimized for search engines.
Some of the top press release distribution services you could use include:
1. EReleases
eRelease is one distribution service you should consider. This service provider optimizes your press release using SEO practices, to increase its chances of ranking on search engines. After the distribution of your press release, you could exert a report with metrics on engagement, audience, and traffic.
2. Newswire
Newswire is among the top distribution services on the market. With Newswire, your press release can reach significant news outlets. They also offer multi-target layering that allows you to reach your target audience at the local, state, and regional levels. Also, Newswire follows a strict editorial process ensuring that your release is error-free.
3. 24-7 Press Release
24-7 Press Release uses a cloud-based platform to distribute your press release to traditional and digital outlets. They follow a strict reviewal process, ensuring that your press release is error-free, follows the guidelines, and is ready to be distributed.
4. PR Web
PR Web service allows you to upload your press release alongside images and videos. It then distributes your news to publications and journalists in your selected niches. The service provider also offers you a detailed analytics dashboard to monitor the impact of your campaign and calculate essential metrics.
5. Presswire
Presswire has a live global database. With this service provider, you can send your press release directly to journalists who are most likely to pick up your story. Presswire's unique feature is translating your press release into any language and leveraging geo-targeting to deliver it to the appropriate audiences.
The service also offers an analytics platform that provides insights that could help you refine your approach for future releases. It lets you see who opened your press release, how many times it was read, and how long people spend reading it.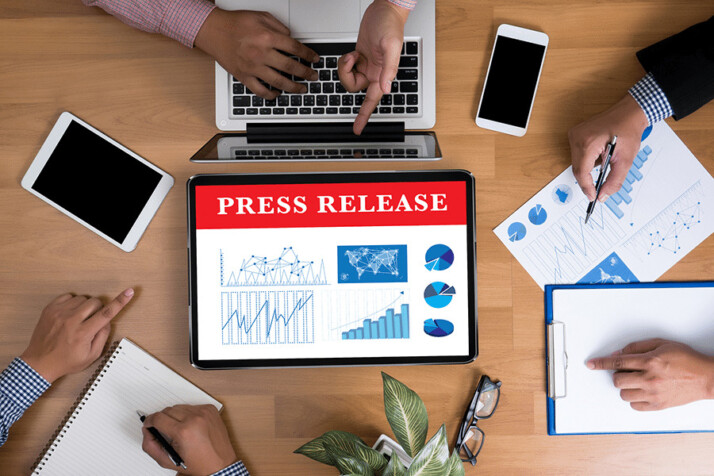 To Wrap Up
Publishing a press release might be an effective strategy if you're looking to improve visibility and your brand's awareness. However, it's essential to remember that this strategy requires budget, effort, and time. While the process might seem overwhelming and complex, it's worth doing as the benefits outweigh the costs.
Explore All
Press Release Intro Generator Articles