Getting engaged is a very significant milestone in a person's life. And there's nothing like receiving a card or phone call from family and friends wishing us well on the great news. It's heartwarming to see the people we love genuinely celebrating our happiness. As such, it's essential to let them know that you appreciate all their love and kindness with a heartfelt engagement thank you message.
If you can't find the words to adequately express your thanks, don't worry. We've gathered some of the best thank you messages you can use. We'll also be talking about some quick tips on how you can make a more heartfelt message.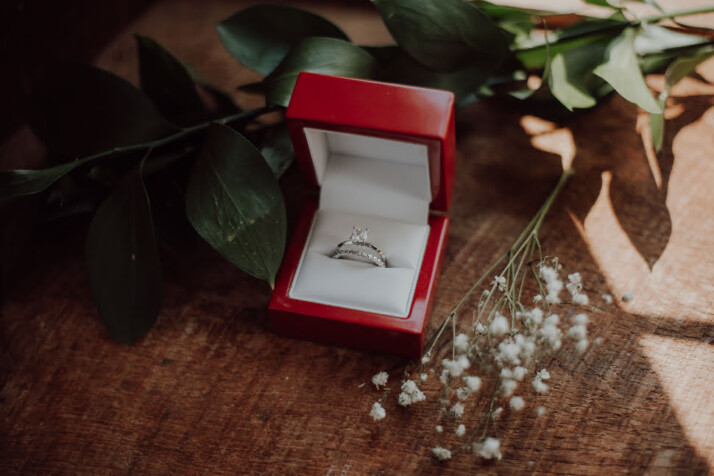 How to Say Thanks for Engagement Wishes
There are tons of ways to extend our thanks to people for their engagement wishes. But a thank-you message, whether through text, email, or a handwritten card, is one of the most classic ways.
Here are a few main things you need to remember when you're writing a thank-you message:
Keep it Short
There's no need to write a super long essay for your message. People are generally busy and may not have time to read that. Just keep it short and sweet. Focus on emphasizing your thanks to the recipient.
Be Specific
It's best to be specific in your thank you note. This shows your recipient that you sincerely care about their gesture. Mention what you're thankful for, be it a gift, a card, a sweet message, or just their presence at your engagement party. Also, let them know how much it meant to you.
Personalize it
To make your thank-you note more sincere, try personalizing it. Try to mention something specific about the recipient. Or you can briefly remind them of a fond memory you both had together.
As for your salutation, you can either go with a formal or informal greeting, depending on your relationship with the recipient.
Heartfelt Engagement Thank You Message Examples
For an Engagement Gift
You have always stood beside me during hard times. Thank you for being such a fantastic friend and for your generous gift.
We were touched by your gifts for our engagement. Thank you for your kindness. We will treasure these forever.
It was very kind and thoughtful of you to give us those lovely flowers for our engagement. Thank you so much!
Thank you for your beautiful engagement gift. It was a delight to open the gift yesterday. We were all stunned by the exquisite crystal vase you gave us. This will look perfect on our sideboard.
Thank you very much for making us such a beautiful card and coming to our engagement celebration. You've made this day unforgettable because of your presence and your loving wishes for us.
Having a great friend like you is such a blessing. Thank you for being there for both of us. And we absolutely loved the plate set you sent us. They were beautiful!
For Sweet Engagement Wishes
Thank you so much for your sweet and kind words. Your message means a lot to us as we start this new journey.
We are very grateful for your congratulatory greetings on our engagement. Thank you for being happy for us during this incredible time.
I wanted to tell you that we really appreciate the message you sent. This will stay with us forever. Thank you very much!
Thank you for taking the time to send us those sweet well wishes. We are so excited and look forward to seeing you on our wedding day!
Your words were so sweet, and we greatly appreciate it. It is so lovely to hear from you again.
For Attending Your Engagement Party
Thanks to you, our special day became even more memorable and fun. Your dance moves were on point. You have to teach me those moves someday!
It was such a delight to see you at our engagement celebration. Thank you for taking the time out of your busy day to be with us. We genuinely appreciate it.
Thank you for being with us as we celebrate our happy engagement. It was so good to see you again. I wish we could've talked more. Hoping to have another get-together very soon!
We would like to give you our thanks for being here on this occasion. We are so blessed to celebrate the beginning of our new lives with the people we love.
Thank you for coming to the party. I know you're very busy these days. But we really appreciate you for taking the time to come.
Conclusion
Showing our appreciation to the people we love is essential. Even a gesture as simple as an engagement thank you message can go a long way in thanking them for their sweet engagement wishes.
Try using the messages in this article and give them your own personal twist. It will surely make your recipient feel loved and appreciated.
Explore All
Thank You Email Articles