In the business world, correctly formatted and sincere thank-you letters are crucial. It's essential to take the time to express gratitude to everyone who aids in your professional development, job search, or business.
Whether it's a former boss who has offered a reference, a business acquaintance who has suggested you to their employer, a coworker who has assisted with a project, or a potential new boss who has just conducted an interview.
There are numerous other ways in which they can help you. You can keep in touch with a member of your network by sending them a thank-you letter. It can assist you in reminding a hiring manager of your qualifications for the job.
Additionally, it can demonstrate to your boss that you are respectful and professional. That's why, we wanted to give you some examples of thank you letter you can use as an inspiration. If this sounds exciting, keep reading until the end!
What's a Thank You Letter?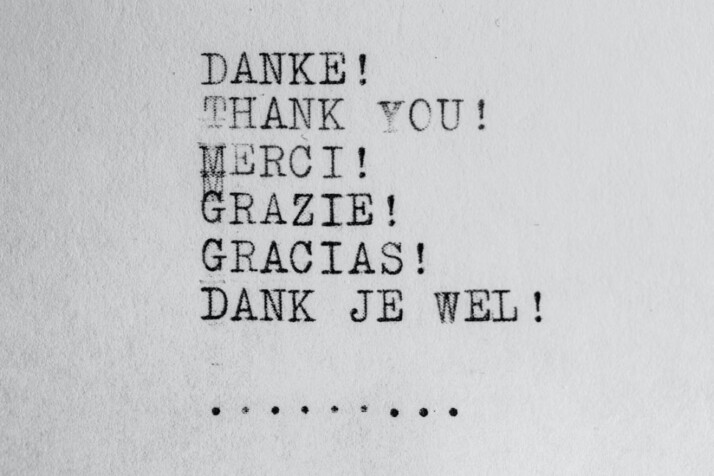 A thank you for a letter, also called an appreciation letter, is a one-page written or typed document that expresses your appreciation to the recipient for giving you a service, a gift, or an opportunity.
Whenever you want to express gratitude in a professional setting, such as after receiving a scholarship or an invitation to an interview, experts advise sending a typed thank-you letter directly via mail or email.
You can deliver a handwritten note of gratitude in person or via postal service in a more informal setting.
A thank you letter is appropriate because it demonstrates professionalism and respect, and most people enjoy receiving thanks.
Additionally, sending someone a letter of appreciation helps you stay in their memory and fosters continued communication.
For instance, showing that you care by writing a thoughtful and personalized thank you letter after an interview makes you stand out from other candidates and may help you get the job.
Additionally, your potential employer is more likely to provide you with a letter of recommendation if you ever need one if you show your appreciation to others and keep forging constructive relationships.
You should write a thank you letter as soon as a circumstance or event occurs where you want to express your gratitude.
Tips & Tricks for Writing a Thank You Letter
Always be sincere and upbeat. Don't overdo it when thanking someone. People can detect sincerity in a thank-you note. When thanking an employer after quitting a job, emphasize the aspects you like. If you don't love everything, don't lie.
Individualize each letter. Make each letter unique. Sending thank-you notes to interviewers for a job, for instance, could include a brief description of the interviewee's conversation. Don't copy and paste the same message; this will come across as insincere.
Make an effort to keep it as brief as you can. Short letters of gratitude are appropriate. Limit the length of your note to a few short paragraphs.
Run your letter through a proofreading tool. A professional tone is required in a thank-you note at work. This indicates that it must be written appropriately and error-free. Before sending, proofread your letter.
Examples of Thank You Letter
Letter of Appreciation for a News Outlet Job
Dear James,
I appreciate you taking the time to talk with me about the editor position at The Mexico City Times yesterday.
It was a pleasure meeting with you, and I appreciated learning more about the position and the organization. I particularly enjoyed learning about your office MVP vote because it sounds like a fantastic way to increase employee morale.
Our conversation has given me confidence that my skills as a copy editor and business writing expert are a perfect fit for this position. As you proceed with the hiring process, I would appreciate a follow-up as I am excited about the potential to join your team.
Please don't hesitate to contact me by phone or email if you require any additional information. Please accept my sincere gratitude, and I look forward to hearing from you soon.
Best regards,
Anna Harkin
Example Letter That Shows Thanks #2
Dear Ms. Lewinsky,
I wanted to write to you to express my appreciation for giving me the time of day to talk with you about the social media manager position at The Daily Eggplant.
I had a great time meeting you and learning more about your team's direction. Our conversation suggests that you have an exciting year ahead with the site updates and growing customer base.
I'd love to share my knowledge and abilities to support the team as they work to develop a more substantial customer base and social media presence, especially by bringing the unique perspective I have as a marketer from my previous experience working at agencies.
I'm eager to have more conversations with you and your team. Specifically, to determine how I might be able to support you in achieving your objectives. I am willing to collaborate with you if we are a good fit.
Sincerely,
Charles Maynard
Final Words
An appreciation letter, or a letter of thanks, is extremely important in the world of business and academics. During your career, you will form a personal bond with many co-workers or superiors. These letter of thanks will show you how much you appreciate the help of these people during your work or studies.
Remember, no one gets to where they are without a little help along the way from other people.
We hope you found our examples of thank you letter useful for your research. You can use these sample letters we shared above to give you an idea. Or, as a template, if you will. However, we highly recommend you personalize your letter at much as possible, instead of relying on these samples and templates.
If you don't have time, or just can't find the right words to write a good letter, you could use a thank you message generator tool, like the one we have at INK! You can create unique and sincere thank you messages using these message generators to express your gratitude to superiors and coworkers.
Explore All
Thank You Email Articles