Thank-you messages are a great way to express gratitude and appreciation to someone. But too often, we under-deliver or forget to send them all together.
Crafting the perfect professional thank you message is a must-have skill for every business owner. Getting in the habit of sending them once in a while can positively impact your professional relationship and your business.
Everyone loves to feel appreciated. You can send a professional thank-you message to your clients, co-workers, employees, or bosses. Making them feel appreciated and special creates room for a stronger working relationship. But how do you craft a tremendous professional thank-you note? Read on to find out.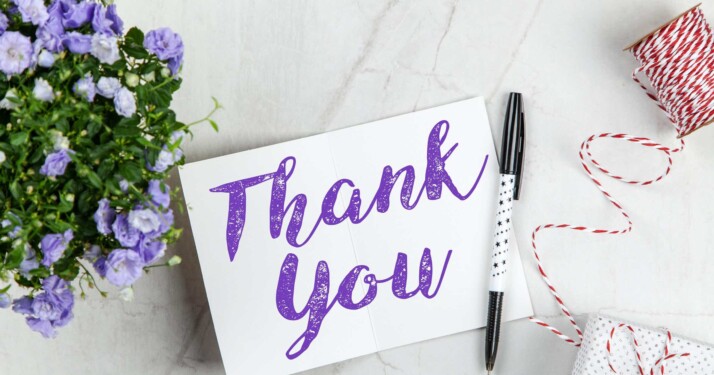 Why You Should Send A Professional Thank You Message
Gratitude is an essential human emotion. Thank you messages are more than just a polite gesture; they're a way to encourage people to stay vibrant and motivated. A simple "thank you" can make a huge difference – it can build a strong, transparent working relationship that lasts the test of time.
Thank-you messages are a necessity for professionals of all sorts. They can be written to a client or customer, employee or boss. By expressing gratitude to your employees, you acknowledge their hard work and significant contributions to your company.
It's also important to send thank-you messages to your clients and customers. After all, they were the ones who truly made your business a success. When you send your clients your heartfelt thank-you messages, you improve your relationship with them and build brand loyalty.
What Makes A Great Professional Thank-You Note?
It is common courtesy in the business world to acknowledge business transactions with a thank-you note. A professional thank-you note can set the tone for a new professional relationship. It also has a positive impact on business conversations and dealings.
Consider the following when crafting your professional thank-you note.
Personalize it
A thank-you note should be more than a statement of thanks: it should convey gratitude, add personal touches, and make a favorable impression. Highlight the reasons you're thankful to help the recipient recall the experience.
Use a professional tone
Verbalize your gratitude in precise yet brief, respectful, and sincere words. Write in a professional, well-paced tone with a clear and crisp message, and free of typos, grammatical errors, or spelling mistakes.
Use Proper grammar
If you're going to thank people in writing, you should give them a grammatically correct, thoughtful, and intricately constructed note. A thank-you note with grammatical and spelling mistakes will portray you as unprofessional and careless. You want to leave a lasting impression, so ensure you proofread your message before sending it.
Professional Thank You Messages to Clients
A thank-you message can help strengthen your brand and establish a positive relationship with clients. A thank-you note that hits all the right notes will leave a lasting impression on the recipient. Here are a few thank-you messages you can send to your clients.
Thanks so much for your recent purchase. It makes us so happy when our product makes people's lives brighter. Our customers mean a lot to you, so we'd love to send you a generous gift and discounts on future purchases.
Thank you for being an awesome customer! We appreciate your patronage, and we're grateful for your support. Thank you so much for contributing to the growth of our company.
We appreciate your kind reviews about our company. I'm glad that you've had a great experience partnering with us. We hope you recommend us to your loved ones. Thank you again for your support.
We're glad you wrote a lovely review about our company. We're happy you had a great experience and appreciate your feedback. We hope you'll continue to use our services.
We appreciate your donation to our cause. We're so grateful for your kindness, and we know your generosity will make a difference in the lives of those we serve. Thank you again.
I'm delighted you recommended us to one of your top business associates. It means a lot to our company and me personally. Thank you so much for the opportunity.
Professional Thank You Messages to Employees and Teammates
You can send a thank-you email to your employees and teammates to appreciate their efforts and contributions to your organization. Your thank-you email will help to ensure smoother communication and build stronger relationships with them.
These thank-you messages will let your co-workers know their hard work and contributions are greatly appreciated.
I appreciate the brilliant work you have done lately. We've been under a lot of pressure, but you've handled it like a champion. I'm so happy you're part of the team, and I know we will make it through this tough time stronger than ever. I appreciate your commitment.
Thank you for your hard work and dedication. Your contributions are invaluable and have helped us record massive success in the past month. We're so excited about the future with you. We love that you're a part of our team!
Your efforts and hard work are not unnoticeable. I appreciate your efforts in ensuring that all our projects are successful. Thank you for the fantastic work!
I'm so grateful for all your help with getting our event together. It wouldn't have been successful without you. Your support was fantastic; thank you.
Thanks for being a loyal member of our team. You are appreciated, and we're grateful for everything you do to keep us going.
Professional Thank You Messages to Bosses
Great bosses are hard to find. If you have a good one, you will want to show them gratitude with a professional thank you note. A thank-you note is the best way to appreciate your boss for their efforts and recognize their added value to your career. Here are a few messages you could draw inspiration from.
I'm grateful for your guidance and support throughout my career. You've helped me grow into who I am, and I'm forever thankful. I feel lucky to have a great mentor. Thank you for always being there. I look forward to learning more from you in the future.
Thank you for being a fantastic boss. I admire your special gift for leadership. We've had a tough time, and you've been a great role model. Instead of losing ground, you're leaning forward. You're incredible. Thank you!
Thank you for being an incredible boss and supportive of me over the years. You are indeed an inspiration.
Dear boss, thank you for your kindness and the impact you've had on my career. You've been the best boss I'll ever have. Thank you so much.
Thank you, boss, for being a good role model. You're a great example to all of us. Thank you so much.
Dear boss, thank you for your undying personal commitment. You are an excellent role model, and I am thankful for the opportunity you've given me. Thank you!
Wrapping Up
A professional thank-you note is an opportunity to express gratitude to someone that has supported you meaningfully. It could be a client who patronized you or an employee who has contributed immensely to your company's success.
No matter the recipient, ensure your message is sincere. A heartfelt personalized thank-you message can leave a lasting impression on the recipient and help to establish a lasting relationship.
Explore All
Thank You Email Articles