Making a killer follow-up email after a meeting can lead to a potential business opportunity. And making it can be easier than you might think. You just have to remember what to include and how to structure a well-thought-out thank you email after meeting. Check out the four winning templates in this article to get you on the right path!
Follow-up emails are essential to developing a cohesive professional relationship. A well-written follow-up email should be brief, effective, professional, and provide the correct information.
These templates will help you craft an email that will impress your recipient with warmth, sincerity, enthusiasm, and professionalism.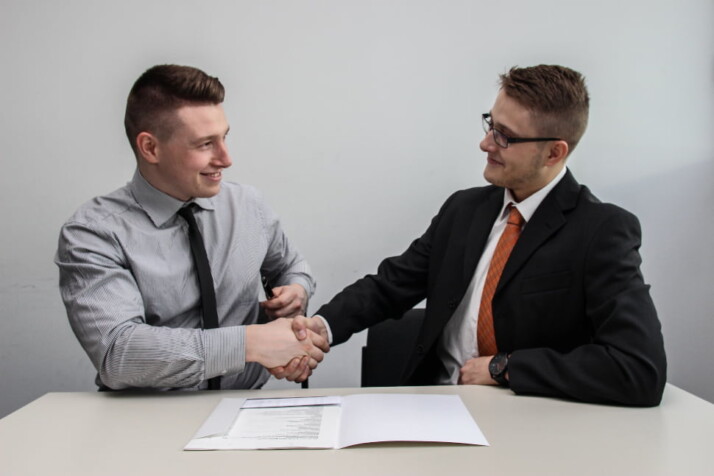 When Should You Send Thank You Emails?
It's customary to send a thank you email after you meet with a potential client or boss. After seminars or job interviews, you can also send a follow-up "thank you" email. This is an effective way to strengthen your connection with someone you just met. It can also be a great way to get acquainted with people you want to do business with further down the line.
When it comes to sending "thank you" emails, timing can be tricky. You want to ensure you're doing it at the right time, but you also don't want to wait too long. It's best to send your email within 24 hours after your meeting. This is so that your meeting is still at the top of your recipient's mind. You should also send your email during business hours. Never send it late at night or early morning. This will come off as unprofessional.
How You Should Write Your Follow-up Thank You Email
Sending thank you emails after meetings can go a long way to ensuring you are remembered, and your continued interest is affirmed. But how do you ensure that your email leaves them a good impression?
Well, here are some tips on how you can write an excellent and professional follow-up thank you email:
Thank them for their time
Start your email positively by thanking them for meeting with you. This lets them know that you valued their time and took the opportunity seriously. You can say something as simple as "I'm so glad I got to meet you at the meeting yesterday."
Refresh their memory
It's a good idea to refresh the recipient's memory, especially if you're following up with a new prospect. Jog their memory regarding your role, the meeting, and your relationship. This saves them time from figuring out who you are and why you're reaching out.
Try to include a brief recap of what you previously discussed.
By giving your recipient a brief recap of your meeting, you can ensure that you are on the same page. Talk about the key points you covered in your previous meeting. You can move with your discussion more smoothly when you give them a rundown of what was discussed.
End with a call-to-action
At the end of your email, it's best to include a solid call to action. Let them know you thought the meeting went well and that you look forward to the next. Whatever action you want them to take, it's best if you give a reminder for them to respond with their thoughts on the meeting. This is so you can clarify their questions if there are any.
4 Thank You Email After Meeting Templates
After a job interview
Dear [Name of recipient],
Thank you for meeting with me yesterday. Learning about the position and the team was a pleasure. I'm very excited about the opportunity to work with such a well-established firm. And I hope to apply my skills and experience to contribute to the team in any way I can.
I'm looking forward to hearing more from you. If there's any additional information you need from me, please let me know.
Sincerely,
[Signature]
After a seminar or event
Hi [Name of Recipient],
It was nice seeing you at [Name of Event or Seminar]. I'm glad I got to discuss with you the latest developments in [industry or niche]. It's a dynamic time, and I learned much from your insights.
I read a recent article about [topic] that I'd think you'd be interested in. I've sent you a copy with this email. I would love to hear your feedback about it.
Best Regards,
[Signature]
After meetings
Hi [Name of Recipient],
Thank you for meeting with me earlier today despite your busy schedule. I gained so much insight from our discussion on the [topic of discussion].
It has made me so much more interested in pursuing [goal]. I hope to keep in touch with you as I work towards learning more about [goal].
Best Regards,
[Signature]
After a business meeting
Hi [Team name],
Thank you, everyone, for another great and productive meeting today. Here's a quick recap of everything we discussed, including the new systems we need to implement starting this week.
Objective:
[Plans to improve growth figures to determine wins, losses, and areas to improve.]
Conversation Items:
[Updates]
[Missed targets]
[Hiring needs]
Action Items:
[Discuss new business plan or strategies]
We hope to see you in the next meeting on [meeting date] to discuss [topic].
[Signature]
In Conclusion
It can be tough to write a perfect thank you email after meeting. But practicing with these templates will help you figure out the best way to reach your goals with your email. Try them out, and you will leave a good impression on your recipients!
Explore All
Thank You Email Articles