A well-wish from a friend, colleague or loved one is a gesture that means a lot. Whether battling an illness or dealing with the loss of a loved one, it's comforting to know that you're not alone. It's only natural to feel grateful. You can express gratitude to someone for their well-wish with a message saying thank you for well wishes.
Messages of well-wishes provide a shot of sunshine in an otherwise dark place. It's what keeps you going when you're struggling. Sending a message of gratitude is a thoughtful way to show your thanks.
Sometimes, it's challenging to find the right words to convey your message of appreciation. This guide lists some of the best messages you could use to thank your well-wishers for their kind words.
Why You Need to Send A Thank You Message to Well Wishers
It's comforting to know that people have your back, care about you, and wish you well during tough times. Your loved ones, friends, and colleagues at work probably sent you cards, wishes, and homemade gifts that made you feel better.
Sending a thank-you message to these people can make a nice gesture. It's great to tell them how much you appreciate their support. Your message should be a genuine reflection of your gratitude. A heartfelt thank-you note to your well-wishers will help make them feel unique and valued.
Thank You for Well Wishes Message Ideas
Sending a note of thanks to a well-wisher is a thoughtful gesture that lets them know you appreciate their kind words. If you're struggling to come up with a note of thanks, here are some messages you can send.
Thank You Message for Get-Well Wishes
Knowing that someone is thinking about you during your illness is a great feeling. You want to show your gratitude to well-wishers who have sent thoughtful get-well wishes to you. Here are some of the thank-you messages you could use to express your appreciation.
I'm glad you'll always be right by my side. Words won't describe my feeling right now. Thank you for wishing me well and for being so kind.
I received your cards of well-wishes and wanted to appreciate your thoughtfulness, concern, and care. I'm getting better and will be out of the hospital soon.
Your authenticity and selflessness were glaring during this challenging time. Your comforting words cheered me on. Thank you for being by my side and helping me through this journey.
I was miserable, but your get-well card kept me smiling. Your message got my mind off things. Thank you for being so thoughtful.
Thank you for your overwhelming love and support. It's so great that you kept me in your thoughts. I can never repay you.
The loving message on your get-well card made me feel so warm. Your message gave me a sense of calm and comfort. I'm feeling much better already.
Thank you for the get-well card and the beautiful wishes you expressed. Knowing there are people who care for me and wish me well, made me feel better.
Thank You for Well Wishes Messages After Losing A Loved One
Losing a loved one can be traumatizing. Comforting messages from friends and loved ones can help you cope with this loss. It's essential to send a thank-you message to well-wishers to let them know that you appreciate their message of support and condolences.
Here are some thank-you messages you should consider sending to well-wishes for their support during your trying times.
Thank you for your thoughts, prayers, and support during the loss of my father-in-law. Your kind wishes and encouragement made such a difference. Thank you.
Thank you for all the kind wishes. I appreciated them so much. The loss of my husband was difficult to deal with. But your thoughtful messages made me feel so much better.
I appreciate your sympathy and support. Your condolences and thoughts made me feel loved. Your kindness and care touched me. Thank you so much.
Thank you for your thoughts and prayers during this difficult time. It was comforting to read your well-wishes. I appreciate your kind words, and I wish to convey my deep appreciation.
Thank you for caring and reaching out to me. I appreciate your kind wishes, kindness, and attentiveness during my difficult times.
Your words of prayers and encouragement deeply touched me. They made it easy for me to overcome this difficult time in my life. Thank you for all the support.
Thanks for the Well Wishes Message After a Significant Life Change
If you're celebrating a milestone in your career, a promotion, a retirement, or a graduation, you're likely to receive tons of well-wishes. It's essential to send a note of thanks to these well-wishers to show that you appreciate their thoughtful messages and kind words.
Here are some of the thank-you statements you could send to someone who has sent you a well-wish after a significant life change.
With all the wonderful things happening in my life right now, I needed to thank you for your gracious words. I'm glad to know you share in my joy. Thank you very much, my friend.
I'm so grateful for your well-wishers as I embark on my retirement. You made my big day a celebration, one I'll never forget. Thank you.
Thank you for your cheer and support. Your contributions to my career are recognized and appreciated. You're a real gem.
I'm so glad I got to share this moment with you. Your warm wishes were more than I could ever ask for. It made my retirement even more special.
Thanks so much for sharing this day of my life. Your kind words meant the world. As I embark on this new career chapter, I am grateful for your continuing support.
Thanks for being a great friend, supporter, and cheerleader. It's a pleasure having you as a colleague. I appreciate your impact on my life and will forever be indebted to you.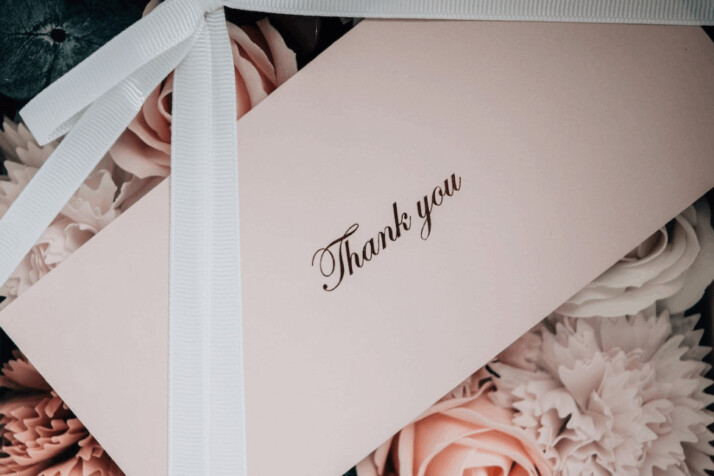 Wrapping Up
Your friends, loved ones, or colleagues may send you well wishes during a challenging time or a significant life-changing event. A note of thanks is always a good way to express gratitude.
Sending a thank-you message for well-wishes is one of the best ways to show that you're grateful for their thoughtfulness.
Explore All
Thank You Email Articles