Thanking the bridesmaid should be a priority once your wedding bell has rung and your wonderful married life has begun. Writing thank you message for bridesmaids expresses your gratitude for everything they have done to make your Big Day special.
From organizing your bachelorette party to helping with your wedding preparations, the bridesmaid had your back. It only makes sense to acknowledge their hard work and appreciate them with a thoughtful thank you note.
This article provides a list of special thank you notes to convey your love and gratitude to your bridesmaid.
Why Is a Thank You Note to Bridesmaid Important?
The truth is, a thank you note to the bridesmaid is a way of saying thank you for also taking care of you. Bridesmaids are in charge of helping the bride get through the crazy wedding planning process.
They organize and prioritize your needs to make your special day as smooth as possible. The least you can do is thank your bridesmaids for helping you out in their special way.
Bridesmaid thank you notes don't have to be fancy or expensive, but they should come from your heart. It should be sincere in connection with them and your appreciation for everything they did for you.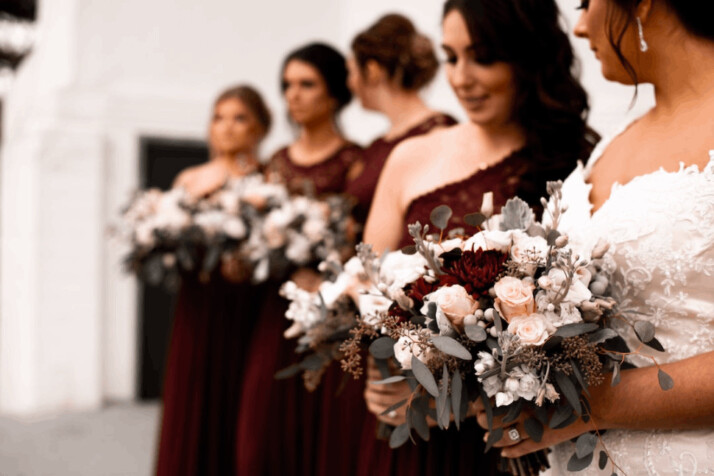 Heartfelt Thank You Message for Bridesmaids
Weddings are always a time of fun, laughter, and celebration, but they are also no easy feat.
There are bridesmaids and maids of honor who have been planning, executing, organizing, and indulging in the most magical occasion — the wedding. To help you express your heartfelt gratitude, here are some lovely thank you messages for your bridesmaid:
I'm delighted that I chose you to be my bridesmaid, and I will never regret that. You are such an amazing woman. Thank you for being my bridesmaid. I want you to know that I appreciate every little thing you have done just to make my wedding day a perfect one.
Thank you for staying around on my big day and calming my nerves, and shaking knees!
I thank you making my big day more memorable. I could not imagine saying 'I do' without my best friend by my side. We've come a long way since our high school hockey team days, but you've always had my back when I need you the most.
Thanks for playing an important role in my wedding day, I feel proud and grateful. I heartily appreciate your support and the encouragement you have shown from the start until the end of my wedding day. Thank you very much, dear.
Believe me when I say that I am the luckiest bride in the world to have you as a bridesmaid. You made my special day everything I could have hoped for.Thank you so much for being by my side in life and on my wedding day.
I'm the luckiest bride ever to have a good bridesmaid like you! I am so grateful for your unending love and support. I truly appreciate your time and effort in helping me to achieve my sweetest wedding daydream.
Conclusion
A note to thank your bridesmaids is always a kind gesture. No matter how you're feeling on your wedding day, a brief gratitude message is always appreciated and admired.
The key to a heartfelt thank you note is to be creative and express how loved you feel by your bridesmaid. Don't forget to send a card or sweet gift along with the note, so your bridesmaids can also acknowledge the occasion to the fullest!
Explore All
Thank You Email Articles