So you hit a milestone with the number of followers on social media. Congrats! Now comes the part of showing appreciation to those who follow your page and consistently keep up with your posts. Whether it's 100 followers, 500, or 1,000, you need to express your gratitude using a thank you message for followers.
A thank-you note that hits all the right notes will make your audience happy and leave a lasting impression on their minds. Let them know you appreciate their support and value all you have achieved with their assistance. Convey precisely how you feel through your thank-you message. This guide lists some thank-you messages you could use to express your heartfelt gratitude to your followers.
Why You Need to Thank Your Followers
You started on social media with zero followers and engagements, and now you have thousands of them; you probably have a verified account now. Your followers made this possible, so they deserve appreciation for the love and support they've shown you and for helping you grow.
Expressing gratitude to your followers with a thank-you message is a good idea because it lets them know that you appreciate their support. It tells them you care about them and recognize their contributions. Creating a personal, touching message will effectively show your thanks.
Your thank-you message should be sincere, polite, and straight to the point. Express gratitude to your followers for the support and love they've shown you. Tell them how much it means to you that they're an essential part of your success.
Thank You Message for Followers
Finding the right words to express gratitude to your followers can be challenging. Here are some creative thank you messages for followers.
I am in awe of your support and love, my lovely Facebook followers. Much gratitude to you for being so supportive. Another milestone was achieved; thank you!
One million Facebook followers! It's all because you consistently engage our content and invite your friends and family to follow us. We sincerely appreciate you for showering us with so much love.
100k followers on Instagram! This has been a fantastic experience, and I'm so grateful for your support. The love I get from you is genuinely outpouring. Thank you so much for your love and support.
You could have picked a bunch of other people to follow, but you chose me. Thank you for giving me a platform to share with you and expose my vibrant personality. Thank you for being my most incredible supporters. Cheers to 10,000 Instagram followers!
I'm grateful to everybody that has supported me and believes in me. Thank you for sharing my content on your feeds and for watching all my videos. I'm thrilled with the support you have given to me, and I can't wait to continue growing with you.
Cheers to 10,000 followers and many more to come! I am blessed and grateful for every single one of you. Here we go!
Special shoutout to my fabulous followers. Your love and support have brought me thus far. Thank you, guys!! Cheers to the 1000 followers!
Thank you for watching my videos and engaging them. I love you guys! You've been so awesome to me! I made it to 500 followers.
Facebook Thank You Message for Followers
Your followers are the reason you made it thus far. Without their support, you most likely wouldn't have achieved this success. It is important to show appreciation and thank them properly, with a personalized message. Here are some of the best thank you messages for Facebook followers.
My sincere thanks to all my Facebook supporters. I appreciate your comments, likes, and thoughts. Thank you so much for your kindness.
I'm expressing my heartfelt thanks to everyone on Facebook. We're not just socially connected, but we're family too. This was never my expectation, but you guys got it going.
I'm so lucky to have such massive support on Facebook. Thanks to you all, I've been able to get here. Much love!
Thank you to everyone who reads and likes my posts on Facebook. I'm lucky to have all of you.
I know I never get to thank you. Today, I'm grateful for your steadfastness. Love You all.
Thank You Messages For Instagram Followers
Nothing expresses your gratitude to your followers like a simple thank you message. Create a simple message for your followers, and thank them for their support.
They will appreciate the gesture and will be encouraged to continue sharing and engaging your content. Here are some of the best thank-you messages for Instagram followers.
We couldn't have gotten this far in such a short period. We appreciate your love and support.
I'm blessed to hit this milestone. My sincere thanks to all of you. I appreciate your likes and comments. Thank-you.
Thank you, Everyone! My growth couldn't have been possible without you.
We're so glad you helped us get here. It matters to us. Our lives are filled with motivation and joy. Big thanks to You.
Thanks for putting trust in me, all; I couldn't be happier. 10k love to all followers.
I'm grateful for all my followers. I promise to keep posting lovely videos. Keep liking and commenting! Help me grow and make me a better influencer in the future.
The fact that we have incredible supporters on Instagram is a great thrill to us. You're all so kind.
Thanks for your kind words, suggestions, and likes. It's a big honor to have you following my page. I appreciate your love!
Thank You Messages For Twitter Followers
If you want to thank your Twitter followers for staying connected with you, you need an exciting thank-you message. Here are some sample thank-you messages you can use to express gratitude to your followers! These thank-you messages will show your followers that you care about them and appreciate their support.
You have been great to me and helped me through some massive changes in my career. I am grateful for your love.
We're 1 Million! I couldn't do it without you. I appreciate your ideas, opinions, and support. Keep participating!
I'm glad to have such loyal fans! Your encouragement to keep posting on Twitter makes it all worth it. Thanks a lot!
I'm surprised at how much support you've given me. I'm expecting the same reaction in the future. Let's celebrate and keep loving!
Thank you so much to my Twitter followers for providing good feedback. I love how you people uphold me, and it's a lot to me.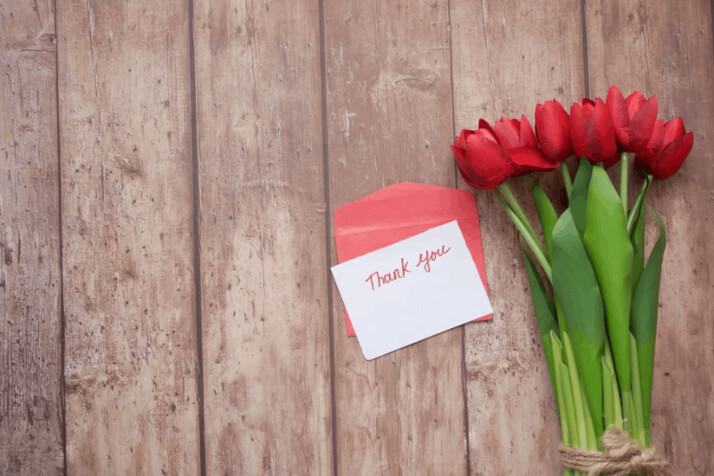 Conclusion
Your followers are the lifeblood of your social media pages. Without them, you'll be unable to sustain your channel and popularity. Their follows, likes, comments, and shares are why you're growing and recording massive success. So you must appreciate them for their support and love. You don't get to express your gratitude every day, so when you do, make it count.
A thank-you message is one way you can convey your heartfelt gratitude to your followers for their support. It encourages them to follow you and regularly engage with more posts. If you're struggling to put your thoughts into words, the thank-you messages in this guide will help you express your gratitude.
Explore All
Thank You Email Articles