Thank you messages are a quick way to express appreciation for the help rendered by other people. Life is rife with strife, but the people who support us through tough times make it bearable.
Choosing the right words to express gratitude can be challenging. There are many things you can say. If you need help writing a thank you message for support given to you, try reading through our list.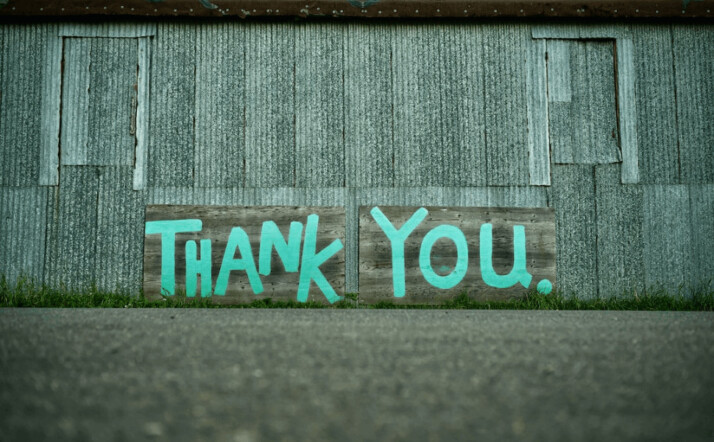 This article will explore the importance of a thank-you message and will provide examples. Let's begin.
Importance of a Thank You Message for Support
Writing a thank-you message is more than just a proper gesture. It can also impact the way people perceive your business. Before you decide to forego sending a thank-you message, here are some reasons that might make you reconsider.
1. It's the Right Thing to Do
First and foremost, a thank-you message is a way to show supporters you appreciate their efforts. It's a display of gratitude and good manners. People want to know their efforts helped and that you do not forget their contribution.
2. It Encourages Further Support
When people know their efforts are appreciated, they are more likely to give you more support in the future. People look forward to helping when they know their help is well-received. It makes them feel great knowing someone is grateful for their work.
A heartfelt message will allow them to reassure they did the right thing by supporting you and encourage them to help out again.
3. They Confirm Receipt of Support
Another reason thank you messages are important is that they act as pseudo receipts for the help sent your way. A thank-you message lets your benefactors and supporters know that their help went to where they meant it to go.
4. It Shows Good Manners and a Pleasant Personality
The most important reason to thank your supporters is to leave a good impression that people love. Whether you're thanking a friend or supporters, a thankful attitude will show them that you're someone who really appreciates the help.
This shows people that you're someone they'd love to support. This warm thoughtfulness is essential for any person or company trying to make a name for itself.
Best Thank You Messages for Support
Receiving help when you need it most can be emotionally overwhelming. It can be challenging to find the right words to best represent your feelings. Look through this short list for a thank you message for support that best suits your needs.
After the storm in my life, you were like a rainbow that gives hope.
Thanks so much for the helpful advice!
Thank you for thinking of us! We will always cherish your support.
Your support couldn't have come at a better time. Thank you!
You helped me through this difficult time. Thank you so much for being brave, kind, and thoughtful.
We are happy beyond words for the support you've given us. Thank you very much for your kindness.
I'm very grateful you took the time to be there for me. I'm lucky to have a father like you.
Thank you for standing firm with us. We really appreciate your generous support and bravery.
I just want to say thank you for helping me get through hard times. You are a wonderful blessing to me and my family. I will always remember your help.
Thanks for taking the time to guide me today. It was a tough day, but you chose to help me reach my goal.
Today was a wonderful experience. It was the perfect time and place to touch our lives.
We'd like to your special team for truly banding together to make a difference in our world. We're very thankful for your assistance and support.
Thank you for the encouragement. Your kind words are etched forever in my heart.
We thank you for the opportunity to spend the day together. We hope you enjoyed the day as we did. You are all precious gifts to my family.
Sincere Thank You Messages for Support
You helped me realize what's really important. I think we're both lucky to meet each other.
Today truly was a day well spent. Thank you for sharing it with our family.
Thank you for helping me understand that I need to accept painful truths. Life is beautiful the moment you learn to consider things that really matter.
I can begin to tell you how nice it was to have extra hands to make things today possible.
We appreciate you for bringing us a positive start to the year. May we continue this long-term trend. We hope to return the favor someday!
You made a difficult day easy. Thank you for stepping up to the job and helping us build our home. We wish you many more blessings.
Thank you for giving me the feedback I needed to hear. I can find the words to use to express my gratitude.
We appreciate your open-mindedness and for speaking freely. We hope to include you in all our
You have no idea how thankful I am for your letters of support. New inspiration was difficult to come by.
People like you are like flowers that add fragrance to life. Thank you so much for sending us your love and support. Wishing you a fruitful year ahead.
Thank you so much for the gift. Your gesture and gifts are greatly appreciated. Thank you for blessing us with your friendship.
I can't express my gratitude and appreciation for your hard work during this painful loss. You have no idea how much it means to me. Thank you.
The Bottom Line
A thank-you message for support can come through a card, note, or email. They sometimes contain quotes, but the best way to thank someone is with a sincere message. Showing your appreciation and gratitude for support makes your supporters happy, and it paves the way for a long-term relationship.
Always take the time to write thank-you notes, and give them in person if possible. We should all learn to appreciate the things and people we have.
Explore All
Thank You Email Articles