The core of every family is its parents. They provide their children with unending love and support throughout their entire lives. Since the pandemic, more children are taking online classes. This, in turn, limits the opportunities for teachers to interact with students.
In the end, it ultimately leaves parents as the sole decision-makers for their welfare and education. As a result, more than ever, parents influence their children's educational activities.
Therefore, it is an excellent idea for teachers to thank parents for helping kids stay on top of their studies and make life easier. That's why we decided to dedicate today's post to write the best thank you message to parents as a teacher.
If this sounds interesting, stay tuned!
What's a Thank You Message?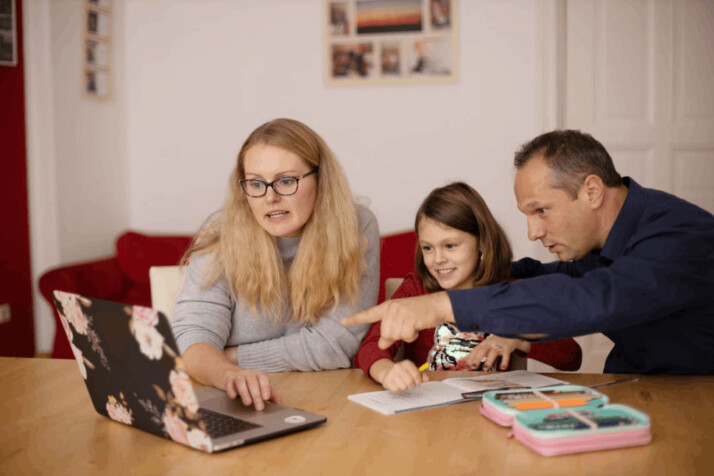 The text teachers send to parents as a "thank you" is just a text of appreciation. Parents are assisting their children with their home-based homework and assignments.
Despite their busy schedules, most parents still find time to participate in their children's education. Therefore, you should commend them for their efforts and dedication to their child's education.
A simple thank-you message from teachers can have a significant impact. This priceless acknowledgment by teachers will make parents happy, no doubt. Sending a thank-you note only requires a short amount of your time. However, it will inspire parents to support and assist their children in their academic endeavors.
Why It's Important to Thank The Parents?
Teachers have a responsibility to foster a positive learning environment for their charges. Parents will feel proud and grateful when they receive a thank you note from their children's teachers.
It will inspire parents to support and assist their children if they receive a sincere thank you note. It demonstrates your appreciation for not only others but also your personality.
These messages allow you to strike up a conversation with parents. Parents still participate in their children's educational activities despite their busy schedules. They think that educators can help their children become better citizens. Therefore, teachers should express gratitude.
It is a simple and efficient method for showing parents how much you appreciate them. Spending a short time thanking parents will significantly improve your student's education.
These are significant arguments in favor of each teacher sending a note of appreciation to their colleagues.
As mentioned, parents are working harder than ever to teach their kids online these days. Even though they are extremely busy at work, parents still find time to assist their children in their academic pursuits.
The best way to show them appreciation is with a thank you note, as they deserve it. Teachers will undoubtedly feel grateful when they thank parents in a heartfelt way.
Example of Thank You Message to Parents as a Teacher
Now you know why saying thanks from the heart is great for a child's school years. It's a gift that will keep on giving way into the future. By supporting parents who work hard for their child's education, you in turn help the child like education and school even more. So come on now, let's look at an example thank you message to parents as a teacher to give you ideas.
You can take a quote from these example letters, however you have to add your special personal touch. Otherwise, the parents will just believe the nice words they hold at their hands are just copied and pasted material. If you care about your job of teaching, you should put some care into your appreciation message. Tell them how wonderful of a person they are, and how their commitment to educate is amazing.
Also, tell the parents how much you like their students academic performance. Hearing their child's success from a teacher is something that all parents love! It's also a great way to keep further correspondence with the parent of the students as a teacher.
Example Appreciation Letters From Teachers
Dear Mr. Jackson,
This is Nathaniel's teacher. This letter expresses my gratitude to you and your wife for supporting your child's academic endeavors. Nathaniel mentioned how much you valued his education. You were there to assist your child whenever he needed math problems or questions. That shows how thoughtful you are.
Your assistance has helped the child's math skills. According to the most recent exams, Nathaniel's grades have risen. Your child has done exceptionally well in all his or her other classes. You got involved in your child's education, which made this possible.
Please feel free to contact me if you want anything from me to complement your hard work.
Example Thank You Letter #2
Dear Ms. Caulfield,
How are you? I would like to thank you for attending the annual event. Your assistance connecting us with the city's top event management organization made our event spectacular. The stage equipment was perfect. A lot of audience members praised the stage's lighting.
I'd like to inform you that your son is a gifted youngster. This year, he's performed remarkably well in class. Thank you for helping to support our school event. That one of my student's parents is so encouraging. I wish you'll keep supporting the teaching and education. Parents such as you make me happy so much for pursuing a career in teaching!
Example Thank You Letter From a Teacher #3
Dear Mrs. Jenkins,
Thank you for your assistance during the school field trip. You are aware that parents must accompany their children on every field trip. You were asked to join us on the journey because the other parent could not come along. I appreciate you doing that.
I noticed that your daughter was ecstatic to have you along. They were elated to see you. The muffins you baked for them were very well-liked. Thank you for your assistance, especially for agreeing to go on the last-minute field trip.
Final Words
Thanking parents for their work as a teacher is a way to show how much you appreciate them. You can use a thank you message generator tool like the one we have at INK to help you create unique and heartfelt messages.
These message generators can help you develop original and sincere thank you messages that will show the parents how much you appreciate their work.
If you want to learn more about our thank you message generator tool, click here!
Explore All
Thank You Email Articles