It's great to acknowledge someone's help or generosity – no matter how big or small. A simple thank-you note is a great way to express appreciation and set the tone for future interactions.
Whether via email, social media, or a handwritten note, saying "thanks" can make a difference in someone's day. The thank you note example in this guide will inspire you to write a personal, and polite note.
Your thank you note must portray your personality to do justice to the message being conveyed. With the tips and examples in this guide, you'll make your next thank you note special!
Why You Should Send a Thank-You Note
Everyone loves to be appreciated. Thank-you notes are an efficient way to convey your appreciation for someone's thoughtfulness or kindness. You can use these notes to communicate your sincerest thanks to your co-workers, friends, relatives, and loved ones for their gestures or favors. Whether you got help with a project or had an employee perform excellently at work, a thank you note is fitting for expressing gratitude.
Nothing is more effective in making an impact on anyone than letting him know that you appreciate what he or she did. A simple "thank you" can instantly lift a person's spirits, making him feel good. A thank you note lets the receiver know that you appreciate what they've done and encourages them to do it again.
Tips for Writing the Perfect Thank-You Note
From clients, family, and friends to your staff, and service providers, thank-you notes can be sent to anyone. It can leave a positive impression on the receiver, leading to relationship-building and ongoing business.
Here are a few expert tips for crafting the perfect thank-you note.
Keep It Genuine.
The goal of the thank-you note is to express your gratitude and show appreciation for a kind gesture or favor. Your thank-you notes must be sincere.
Put some thought and effort into your gratitude and ensure it's from your heart. A thank-you note should not just be a formality. Nothing is worse than someone saying "thanks a lot" when they do not mean it.
Set the Context.
State why you're saying thank you. If it was a project they helped you with, mention it. If you're thanking them for the life-changing opportunity they shared with you, state it. This will put the recipient at ease and keep them from guessing why you're thanking them.
Examples:
I was thinking about the milestone we recorded at the company, and I realized I never said thank you.
I realized I hadn't taken the time to express my gratitude for your hard work on the last project.
Share how this person's actions impacted you. It could be a connection or a job you secured because of them. It could be as simple as a smile they brought to your face or a challenge they helped you overcome.
Expressly state what you appreciate them for and why. This way, the receiver of your note will understand why you're thanking them.
Example
What you appreciate:
As you know, I had a rough time last year. I was trying to work while caring for my sick parents and recovering from a bad breakup. No matter how busy you got, you made time to ask about my parents and check in on me.
Why you appreciate it:
I know that's just who you are, but your check-ins always made me feel better and helped me cope through the difficult times.
Close the Message.
After stating your point, end your thank you note with a sign-off. It can be a straightforward "thank you" or a more personal and detailed sign-off reiterating what you appreciated in the notes.
Examples:
Thanks again; I enjoy working with you.
Even though I don't always say it, I appreciate all you do.
Thank you for being so supportive; it made a huge difference for me.
Thank you!
Send It.
You may decide to send your thank-you note via email, but a handwritten note can mean more. You can write it on a card or a piece of paper. Give it directly to the person, leave it at their desk or mail the card to them.
Thank You Note Example
Below are some thank you notes you could use as a template for drafting yours.
1. Your Colleague Stood in When You Needed Some Time Off.
Hey Michelle,
I just got back from spending some time away with my family. Thank you for covering up for me while I was gone. I know you had a lot on your plate and that you took on my workload means a ton to me. I appreciate what you did.
Thank you!
2. a Senior Colleague Advocated for You to Get a Raise or Promotion.
Hi Hannah,
I heard from Thompson that you put my name forward for a promotion, so I wanted to thank you. Whether I get it or not, I'm honored you thought about me for this position. I can't thank you enough for you helping me grow in the past few years. I'm fortunate to learn from you as a leader. I appreciate all you have done for me.
Thank you.
3. Your Teammates Have Been Working Overtime to Complete Some Challenging Projects.
Hi James,
We've been so busy lately that I didn't take the time to express my appreciation. The workload these past few weeks has been a lot since we were trying to wrap up our big project. You've been working your tail off, working extra hours, and doing so many things behind the scenes. You do well, and I'm glad you're on our team. We couldn't have done this great work without your contributions. Thank you so much.
4. Thank You Note for Wedding Gifts.
Dear Ray & Julianne
The couples' spa package makes for a perfect weekend after a busy week; thank you! We're looking forward to pampering ourselves soon as life has already caught us by surprise. We were so glad to see you both at our wedding and can't wait to see you when we pay a visit.
5. Thank You Note Example for Help
Hey Lucy,
It was so kind of you to help Nathan study for his Physiology exams last week. It meant a lot to him after struggling for weeks with the material. Nathan passed the exams and also made the highest grade in his class. It's all thanks to you! This weekend we'd love to have you over for brunch.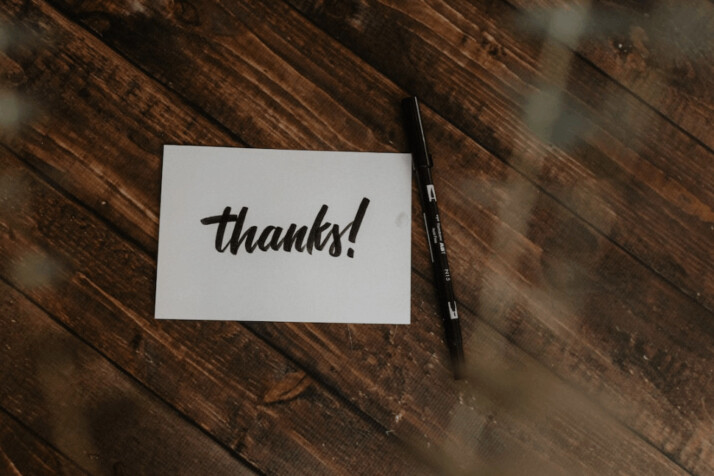 Final Words
A thank-you note is one piece of written correspondence that every person should send to appreciate the help or support offered to them.
The messages should be sincere and show the most profound appreciation. A simple thank-you note can make the recipient feel good and provide just the right opportunity to build a quality relationship.
Explore All
Thank You Email Articles