Thank you notes are a timeless expression of gratitude sent to the people we value and love. Whether it's for a family member, co-worker, or client, a thank-you card is a perfect way to make someone feel treasured. But putting what you feel into words can be challenging at times. In situations like this, a thank you note template can be a lifesaver!
The thank-you note templates in this article will help you write the perfect note for anyone for any occasion. From thank you notes for an employee to thank you notes for gifts, we've got you covered.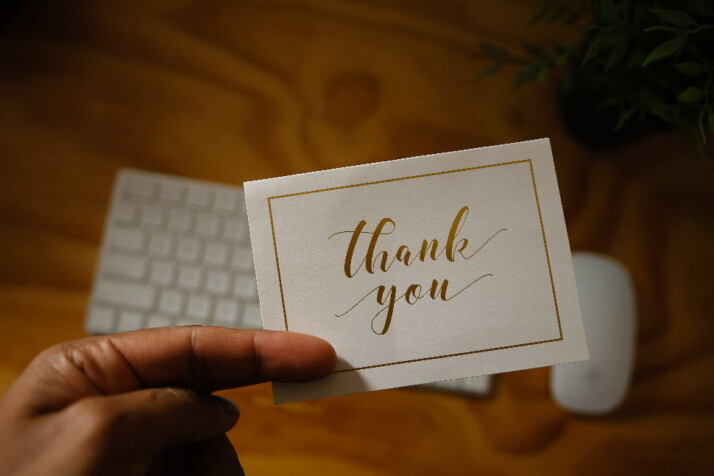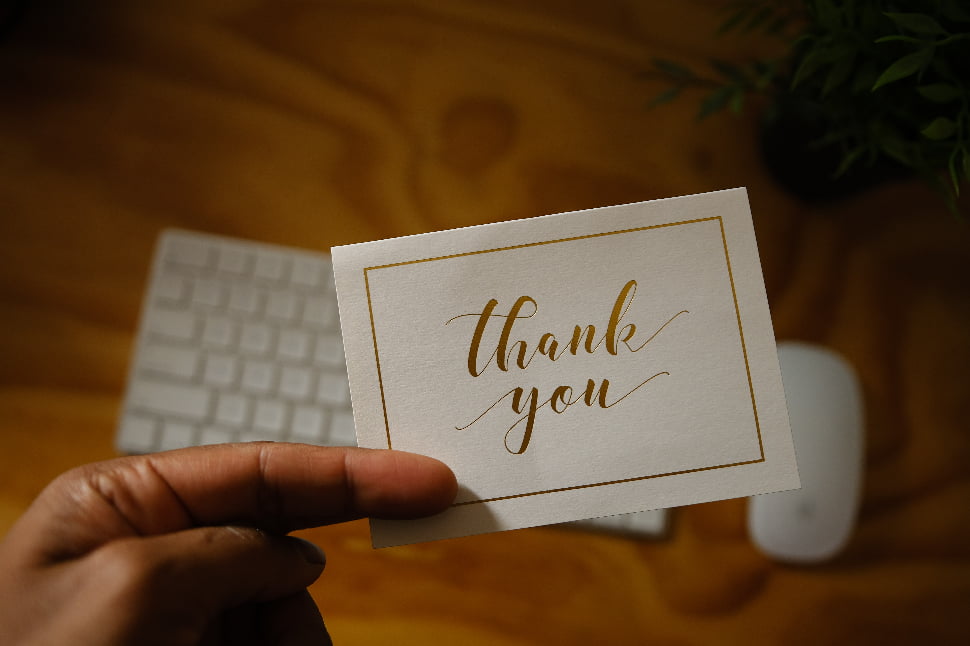 How You Can Make a Good Thank You Note
When sending a "thank you" note for business or your loved ones, it can be challenging to choose the right words. Here are some quick and simple points to remember when writing a thank-you note.
Show Your Gratitude
Thank you notes are all about showing your heartfelt thanks to someone. It's used to share how grateful you are for the thoughtfulness of your relatives, friends, or acquaintances.
Try to include the words "thank you" or "thanks." You can also use other words that express a similar meaning, like "I'm grateful for your gift" or "I appreciate you."
Be Specific
Try to be specific with what you're thankful for in your card message. This shows that you've paid attention and cared sincerely about what you received.
Mention the gift specifically. If the note is to thank someone for attending an event, share a moment about the event. Let them know how much it meant to you that they came.
Personalize it
Personalized notes feel much more sincere. It helps show them that you took the time to craft your message and that you put a lot of thought into it.
This is an effective way to connect with your recipient. And it can make them feel like you went out of your way to make a card with them in mind.
For your thank you note, you can choose a digital card or make one yourself. Both are great options. However, nothing screams sincerity like a handwritten note.
Thank You Note Template Examples
Send a heartfelt thank you card and show your loved ones how much you appreciate them. Try using these templates to make writing your thank you note easier. These are tailored for different occasions. Feel free to personalize them to suit your recipient.
For a Gift
Hi [Recipient Name],
I got the [gift] you sent to my home address yesterday. Thank you for remembering my [birthday or other occasions] and for going through the trouble of buying me a present!
I truly appreciate you sending me this special gift. I'm very blessed to have such a thoughtful friend.
Thanks again!
Best Regards,
[Signature]
For a Customer
Dear [Customer Name],
You've been our loyal customer for [Number of years]. And we wanted to send you our heartfelt thanks for your continuous support for [Name of Business].
Thank you so much for choosing and loving our products. You are surely one of our favorite customers. We hope that you continue to visit us in the future.
Sincerely,
[Signature]
Employee Thank You Note
Greetings [Name],
We want to express our heartfelt appreciation for everything you have done for the company. Ever since you started working with us, you have shown excellence in your work. You are truly a vital part of our growth.
We wish you success in whatever you do. And we look forward to working with you for many years to come.
Best Regards,
[Signature]
For Attending a Wedding
Dearest [Name],
We're very glad that you could be with us for our special day. I enjoyed getting to catch up with you and talk about [the topic].
Thank you so much for the thoughtful [gift]. We are forever grateful for your kindness, support, and love.
With love,
[Signature]
Tips for Choosing the Right Thank-You Card
If you don't have the time to craft a card yourself, you can always buy or print one. There are tons of thank you cards that you can get online or in-store. But how exactly can you choose the right card? Here are some tips to help you out:
Think About Your Recipient
Always keep your recipient in mind when choosing your card. Do they like bright colors, or do they like florals? Are they fond of bold typography or something more traditional? You should consider your recipient's personality to find a card they will love.
Make it Appropriate for the Occasion.
Almost every Occasion comes with a greeting card and "thank you" card, but it's best to tailor each card to the specific situation.
A card design for thanking someone for a gift differs from one that's used to express thanks for support during difficult times. Pay attention to colors, style, wording, and other details of the card. These can help you capture the right tone.
Consider Space and Customization
A personalized card design is just as important as a personalized thank you message. If you want to write a long and in-depth message, you should choose a card design with enough room for you to communicate freely.
Conclusion
As people get busier these days, it becomes tougher to find time to write thank you notes. But with the help of a thank you note template, you can craft these notes faster and more easily.
So the next time you write a thank-you note for someone, try using the templates in this article. Remember the tips we've mentioned, and you're well on your way to sending the perfect thank you note!
Explore All
Thank You Email Articles