AI website copywriting is about giving your business an edge over your competition. It's about increasing your conversions and sales levels as much as it's about consistency and tweaking targeted keywords to attract targeted customers.
AI copywriting can boost your SEO and help you drive traffic to your site. All without spending a lot of time or money. In this article, you'll learn the importance of website content and the fundamentals of high-converting website copy.
What Is AI Website Copywriting?
Adding more content to your website is a great way to get more visitors. However, when you want to ensure people find the pages you created, you need to optimize those pages for search. This is where AI website copywriting comes in.
When you write your message using AI, you focus on the keywords people would be searching for in your field or topic area.
Artificial intelligence attempts to imitate human intelligence in machines, with a focus on understanding, learning, reasoning, and planning.
Engaging content can keep visitors on your web page and encourage them to take actions that are meaningful to them and you.
Why Is AI Copywriting for Website Important?
Perhaps you've been struggling to find online success with your website. It's not because your site is not ranked or your content is not unique. It is because you haven't implemented effective copywriting strategies.
Copywriting is one of the main points all digital marketers should be familiar with. Web marketing is highly dependent on copywriting.
AI website copywriting is vital because it dramatically affects website traffic, conversions, and customer retention. From clear benefits to attracting users, copywriting is a massive component of a well-designed website that converts visitors into customers.
Copywriting for Websites: Points to Remember
Writing for websites is not just about punching up specific keywords. The most effective websites tend to post writing that is welcoming, descriptive, and comprehensive.
Users should be able to seamlessly navigate the site and find any piece of information they need on their own. The writing should be simple, engaging, and easy to navigate when scrolling through a page.
It is important to show users that your site is merely a tool for solving their problems, not a cryptic and overly complicated one.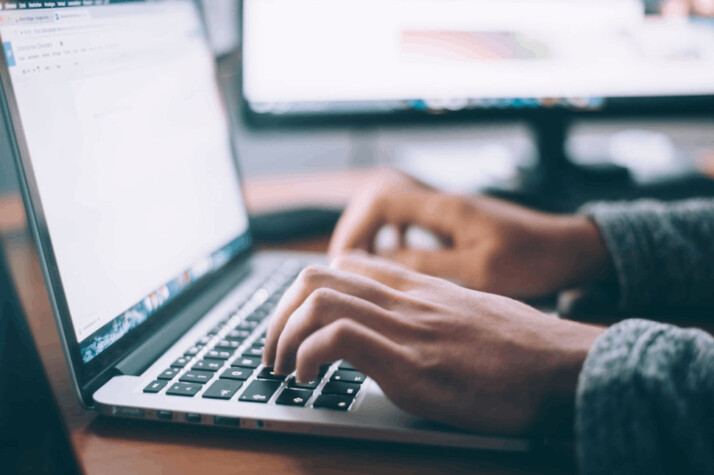 Is AI Website Copywriting Good for SEO?
Whether you're a company, an individual, or a site owner, any website you create has one big goal: to get traffic. One way to secure your website's integrity is through proper website copywriting. Creating high-quality copy is not easy; it requires a whole lot of skill and experience.
The core idea is to target your audience. And AI website copywriting can do that better than any other form of website writing. Compelling AI copywriting for a website can drive more traffic to your site and convert them to leads and then sales.
Fundamentals of Website Copywriting
To increase your chances of getting a conversion or a sale, you must improve the quality of your website copy. The first step to enhancing the quality is getting back to the fundamentals of copywriting.
Even if you write using AI copywriting tools, including that human touch to evoke emotions through your content is still important. Here are the basics of website copywriting to keep in mind.
Always Start by Identifying the Objective of Website Copy
Your website content won't be effective unless you know the overall purpose of writing it.
Before writing a single word of text, you must identify the main objective of the copy. You need to decide what you want your readers to do after reading the website copy.
You Must Always Lead With the Main Point in Mind
Besides the overall goal, every page on your website should entail the main point. For instance, it is the service value proposition for a service page.
For the about page, it is usually to establish credibility or captivate readers with your company's mission. You will only have a few seconds to draw the attention of your website visitors. So, leading with the main point is the key.
Each Line Should Create Interest to Read the Next Line
Copywriting is different from writing a blog article. Every word and line must be thoughtful and intentional. The primary goal of a line of copy is to entice the reader to read the next line.
The message you wish to convey to the reader is irrelevant if they stop reading in the midway. It means your proposed arguments are not impactful. The visitors won't even take your desired course of action.
Your Customers' Needs and Desires Matter
One of the main mistakes many inexperienced copywriters make is only focusing on their brand and business rather than the target audience. What you think about your business is not really of interest to the customers.
They are on your site to find solutions to their pain points or fulfill their needs and desires. So, make sure your website copy reflects content that addresses the customers' demands.
Clarity of Copy Is Important
Although most copywriters and marketers talk a lot about persuasion, the truth is that clarity is the most crucial component of effective copywriting.
When writing copy, the goal is to make it clear that the product is perfect to meet customers' needs. It is the product or market fit that drives sales. Showcasing something to people that they want or need sells things.
End With a Proper CTA
Never oversell a product, and make sure to end with a proper closing. Ending with a suitable Call To Action (CTA) is a must. It's a killer one-liner that makes people want to purchase your product.
Conclusion
Whether you are a website owner, a marketer, or a blogger, your website copywriting is imperative. When building your website, it is critical to first define its purpose. This is what will define how much time you spend on your copy.
Effective AI copywriting for your website is key to driving traffic to your site and improving sales. This article is a quick and clear guide to better understanding the fundamentals of website copywriting.
Explore All
AI Website Copywriting Articles