You may never have heard of them, but LinkedIn text ads are great for increasing your reach and boosting sales. LinkedIn offers this advertising option to allow users spend minimally while reaching a large audience. Text ads can introduce new prospects to your website and help create awareness about your brand.
Text Ads are a powerful asset for your company's marketing campaigns, given their visibility across the internet. But many marketers are unclear about how to design them or what to include in these ads.
This guide will show you how to set up a LinkedIn Text Ad, including what goes into crafting an effective text ad.
What Are LinkedIn Text Ads?
LinkedIn is a professional networking platform and an excellent place for businesses to get in front of potential customers. Its advertising options are ideal for businesses to advertise their brand to LinkedIn's vast professional network.
Text ads are your best bet if you're looking to reach a large audience while maintaining a budget. They're simple desktop-only ads that use a short headline, short description, and optional image to grab the audience's attention. They're a very affordable way to advertise to millions of people on LinkedIn.
Setting Up A LinkedIn Text Ad
Here's how to set up your LinkedIn Text Ad.
1. Use a business account
Rather than using your account to set up an ad, create a business account. This way, establishing your brand and building trust will be easier. When your audience visits your page, they'll see what your brand is about and what you offer.
A business account will also automatically make your ads appear more professional and business-oriented.
2. Create your campaign
After setting up your business account, you can move on to create your campaign. Navigate to the LinkedIn Campaign Manager page and select the account you want to use, your campaign objective, and your campaign group.
LinkedIn offers several campaign objectives; each focused on different goals. They include website visits, brand awareness, video views, lead generation, engagement, website conversions, and job applicants. The objective of your campaign will depend on what you want to achieve with the text ad.
You'll get a few options for metrics to track your ad's success, depending on your chosen objective. If you select brand awareness as your objective, you'll be given options like impressions, click-through rate, and average engagement as metrics.‍
3. Select your audience
The key to a successful ad is audience targeting. Think about what kind of product or service you sell and the people who will be interested in purchasing the product. Research your audience, their interest, and demography.
This will help you determine the best way to get your message to them. LinkedIn recommends targeting between 60,000 and 400,000 people for text ads. After choosing your audience, scroll down to the "Ad format" section and select "Text ad."‍
How to Craft an Effective LinkedIn Text Ad
Your text ads need to sell. They need to motivate leads to take the next step. Your ad needs to be so good that it makes people want to reach out and speak to you.
What makes a text ad most effective? It must have a clear message, great visuals, and high-quality copy. With that in mind, capture your text ad in a way that makes it difficult for readers to scroll past your post. Here are some tips for crafting the best text ad.
1. Use a relevant image
LinkedIn text ads provides a space for a 100 x 100-pixel image. Visuals are optional but can typically increase your click-through rates. Use an image that is relevant to your content and speaks to the message of your ad. This will give your viewers a good idea of what your company stands for.
2. Make the headline compelling
The copy for a text ad consists of two sections: headlines and description. The ad headline has a limit of 25 characters, so make it count. Your headline should tell the reader what your ad contains. It should immediately hook the reader and give them a reason to click.
Use keywords that relate to your product or service and your audience. You may ask a question that focuses on your audience's pain points or the challenges your product solves.
Also, say what you're offering and speak directly to your audience. Remember to include a call-to-action (CTA) to encourage the viewer to take immediate action.
3. Craft a punchy description
LinkedIn text ad gives you 75 characters for the description. Your description should be compelling to the reader, providing more details about the landing page's content.
Stir up your viewer's curiosity by using language that makes them want to know more. Highlight the benefits of your product or service and use directive language that compels your audience to take specific actions.
4. Launch your ad and track metrics
The next step is to launch it. Scroll to the bottom of your page and click "Launch Campaign."
After launching your text ad, track your metrics. These metrics will be based on your campaign objective. Some of these metrics are impressions, click-through rate, and conversion rate. Visit the LinkedIn Campaign Manager to begin tracking. The results will help you improve your current and future campaigns.
The Best LinkedIn Text Ads Creator
Text ads creator helps you create text ads specific to your product and audience. Some of the best LinkedIn Text Ads creators are INK, Copy.ai, and simplified.
INK is a free AI-powered tool that lets you create effective LinkedIn text ads in seconds. All you need do is enter your product name, description, and tone of voice, and the tool will quickly generate your LinkedIn text ad.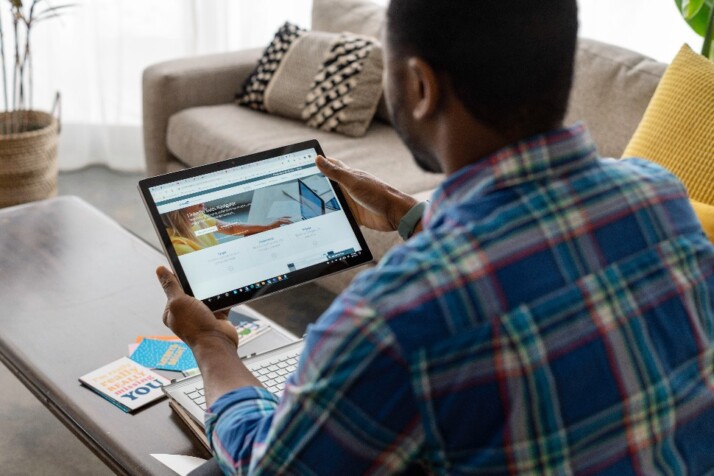 To Wrap Up
Text ads are a great advertising option for LinkedIn business owners. It's simple, affordable, and an easy way to reach your audience. The trick is to make it irresistible with a compelling headline and punchy description. Ensure to include a call to action and use a relevant image that speaks to the message of your ad.
Explore All
LinkedIn Text Ads Articles