Like any online tool, a sentence rephrasing tool saves users a whole lot of stress. Imagine paraphrasing hundreds of sentences manually. You probably don't want to imagine it, let alone do the actual work.
There are diverse reasons that could warrant the need to rephrase an article or essay. Whatever the reason, you need to figure out a quick and efficient way to get it done.
This article explores the pros and cons of manual paraphrasing and using paraphrasing tools.
How to Rephrase Sentences Manually
Rephrasing your written content manually entails going over the text from one sentence to the other or from one paragraph to the next. It is a long process that many traditional writers still stick to. Their reason for sticking to it might be rooted in nostalgia and apathy towards AI writing tools.
Manual paraphrasing is best done with shorter texts or content. You can use these tips the next time you want to rephrase your work:
Expand sentences and give examples, especially when trying to avoid plagiarism and make your work original
Change words for their synonyms
You could rewrite sentences initially written in the active voice in the passive voice and vice versa
Look through to find fluffs and remove them
Overall, when rephrasing, writers and editors should ensure that the meaning is retained.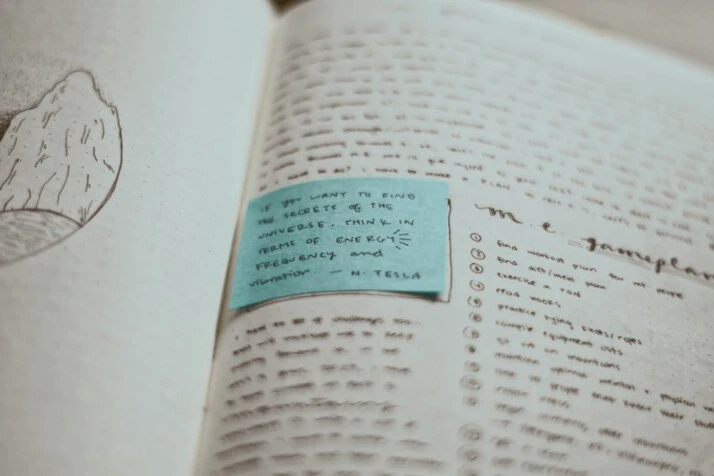 Pros of Manual Paraphrasing
Manual rephrasing ensures accuracy throughout the text
It helps writers reassess their writing
Cons of Manual Paraphrasing
It takes a lot of time.
How to Use a Sentence Rephrasing Tool
Using a sentence rephrasing tool is an easy way to rewrite your essay. With a few prompts and the click of a button, your rephrased content and article will be ready. The tools can be downloadable software or a website. Either way, it helps professionals get their blog posts, and articles paraphrased quicker.
These tools create rephrased content using artificial intelligence (AI). The manual rephrasing is entirely done by a computer system. One might be tempted to think these tools are just refined thesauruses that swap out words for their synonyms.
However, these tools have advanced intelligence similar to natural human intelligence that processes language naturally. Thus, an online sentence rephraser can easily generate new and unique content out of your original text without changing its meaning.
Pros of Using Online Sentence Paraphrasing Tools
It is time-saving
Users only need Internet access to do it
Seamless access to a thesaurus
Variety of choice
Cons of Using Online Sentence Paraphrasing Tools
Good online paraphrasing tools are not always free
Manual proofreading is advised to pick out minor errors
One good thing about sentence paraphrasing tools is that they hardly come as stand-alone programs. They usually have different features built into them to complement the paraphrasing feature. These features could be:
Plagiarism checker
Grammar checker
AI writer or co-writer
The program could have one of these or a combination. It's good to look out for these additional perks when choosing your paraphrasing tool.
What Are the Best Sentence Rewriting Tool?
Users are spoiled for choice in terms of text paraphrasing tools. From the good to the not-so-good paraphrasing tools, there are many in the market aimed at making our rewriting work easier. We've selected a few of the best tools that deliver high-quality output.
INK
INK is an AI paraphrasing tool with many parts. The features include an optimizer, a co-writer, a content planner, and a copy assistant. Users can download the INK software compatible with their devices (Linux, Windows, and macOS).
The paraphrasing options on INK are three:
Rewrite (casual, formal, and normal tone)
Simplify (shortens the sentence)
Expand (lengthens the sentence)
We used the same sentence, and INK's rephraser gave the result in this image:
QuillBot
Over the years, has become synonymous with paraphrasing. This tool uses state-of-the-art artificial intelligence to reword your idea for you. It does this by altering sentence structure to enhance readability.
The tool has seven paraphrasing modes. Two of these (standard and fluency) are available on the free plan. Using the standard mode on the free plan, we paraphrased the sentence, "I have no idea of what's coming."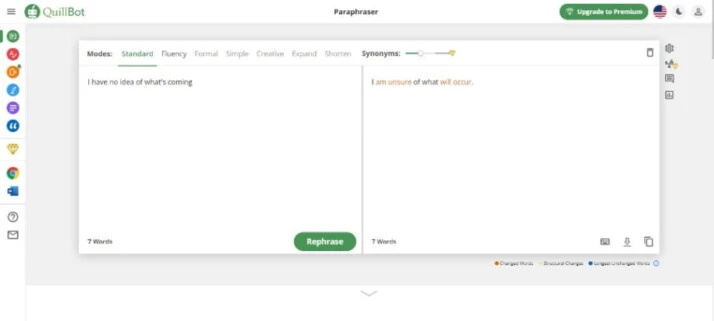 This result shows that some words from the original text are gone. However, it maintains the meaning of the initial text in the newly-generated one. This makes the output high-quality. This kind of output easily passes a plagiarism test because it has been perfectly reworded.
In addition to its paraphrasing tool, QuillBot also provides a citation generator, a summarizer, and a co-writer.
Paraphrasing Tool
Paraphrasing Tool is a web-based tool that paraphrases, rewords, and rewrites essays and articles for students and other professionals. The website interface is simple and easy to use. We tried this rewriter with our usual sentence and got this result: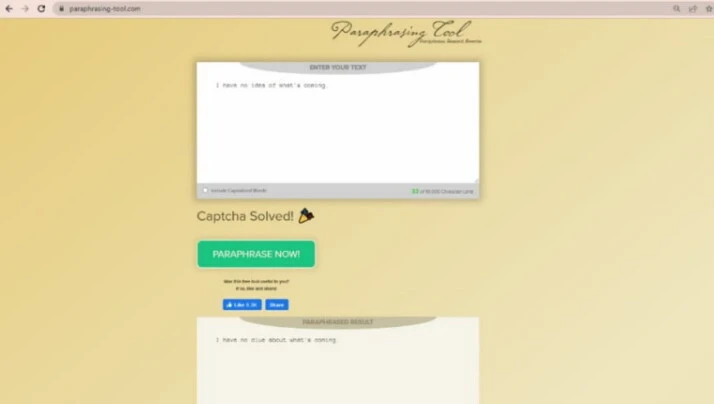 Conclusion
Whether you're aiming to create a plagiarism-free article or trying to make the article less complex, there is a perfect paraphrasing tool for you.
The most important thing is to check the paraphrased sentences or articles to ensure that the tool didn't alter the intended meaning. Sometimes the algorithm may replace words without considering the context.
Overall, people are embracing paraphrasing tools to make their writing better. Some of these tools even offer grammar and spell-checking services.
Explore All
AI Rephrase Tool Articles