Product descriptions are integral in e-commerce. They're a key tool in getting visitors to convert into buyers. They're also the first impression your customers get of your products. That's why it's important to be creative, unique and shareable.
Product photos do a lot of the heavy lifting in terms of piquing the interest of shoppers in your items. The marketing language on each of your product pages close the sale.
Not all product descriptions are the same. There are a few things you should keep in mind when writing the perfect product description to enhance sales.
We'll go over how to write a product description and present some excellent examples of effective product marketing copy.
What Exactly Is a Product Description?
A product description is a type of marketing that entails writing details on a product's characteristics, functions, and benefits. They are intended to inform potential buyers about the goods while also urging or enticing them to purchase it.
The best product descriptions include information on the challenges the product solves and how it benefits the user.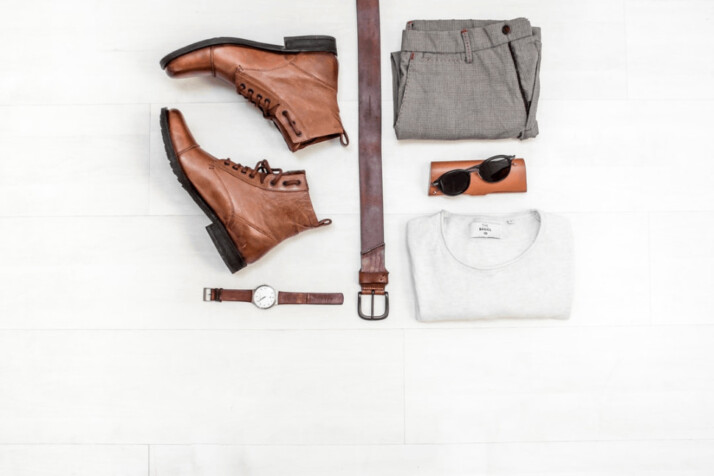 Top 5 Tactics for Writing a Product Description That Sells
There are several tried-and-true tactics for writing amazing product descriptions that sell regardless of the format. Here are the top five tactics you should always incorporate:
1. Concentrate on Your Intended Audience
Product descriptions must be tailored to the intended buyer for each product. These descriptions are successful if written as if speaking to the buyer.
If you've built customer personas, you may utilize them to help you write good product descriptions. When determining what information to include and what language to use in your description, consider what features and benefits customers value the most.
For example, if the lifestyle and experience components of a product are what drives purchasing, make sure your description focuses on experience and lifestyle. This will appeal more to someone who values experience above features alone.
2. Look Beyond the Product's Features
Make sure to include more than simply a list of characteristics in the product information when creating your product description. Some customers are interested in your product's features and technical details, but most care more about its benefits.
Instead of simply discussing what the product is or includes, highlight the benefits of the product and share your experience with it. If you can show how the solution solves the ideal customer's pain points in the text, they'll be more likely to buy.
For example, if your organization sells a SaaS solution, you should highlight the service's features in the product description. However, the emphasis should be on the benefits to the client, such as time savings, cost savings, increased productivity, and so on.
3. Avoid Adjectives
When discussing product attributes in your online business, avoid overused adjectives such as "good," "beautiful," "great," and "high-quality." While these may describe your goods, they are vague and not so compelling.
Try utilizing specific adjectives that will appeal to your target audience to enhance the conversion rate for your e-commerce website. Instead of "high-quality," use adjectives like durable, hand-made, water-resistant, etc.
4. Make It Legible
You want consumers to be able to read your description and make a purchasing decision as quickly as possible. The finest product descriptions are readability compliant. This means:
Using bullet points to highlight lists (usually of features or benefits)
Using brief paragraphs, and headers to make the text scannable
Creating any powerful words (or keywords that showcase the value)
They are bold in order to be easily identified.
Keeping the text brief and to the point and offering only the features and highlights that will help sell the product.
Perfect Example of Product Description That Boosts Sales
Here is a sample of an actual, good product description, as well as the reason why it works.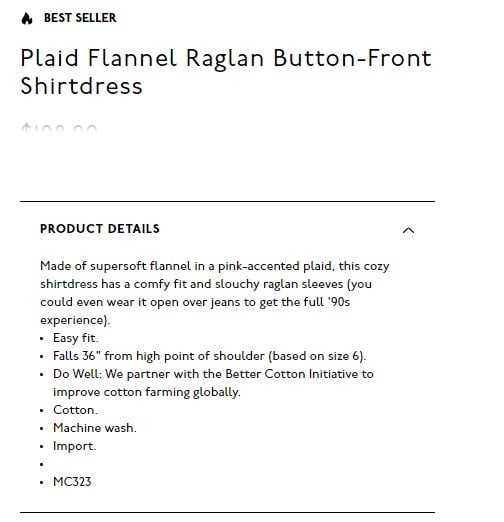 An example of product description is the flannel shirt product description of Madewell. Madewell's product description illustrates great understanding of its target audience. Many Madewell clients are ecologically conscientious young women.
Madewell uses informal language and cites popular '90s nostalgia in the body of the description before mentioning its environmental commitment in the bulleted list.
Madewell's description is also written in an effective way. Because the main elements are in a bulleted list, they can include sensory phrases and daily use examples in the description. This method maintains their description vibrant, succinct, and easy to skim.
To Wrap Up
Product description is the first impression a customer gets of your product, and it is important to ensure it is a good one. Just like any marketing job, product descriptions are a ton of work and can take days of focused research and revisions.
Explore All
Product Description Generator Articles