The best website AI copywriting tools will help you scale your content significantly faster than humans ever can.
The use of artificial intelligence signals the shift away from human copywriters to software that automates content generation. All AI copywriting tools are not the same.
So, it's normal that one will meet the user's needs more than the other. This article outlines the features you need to look for in the best AI copywriting tools for a website.
What Is AI Copywriting?
AI copywriting is the process of creating high-quality content for a website using artificial intelligence. Writing quality content for a website is not an easy process. AI is a perfect tool that helps users automatically create quality content with minimal human intervention.
AI copywriting employs sophisticated algorithms known as natural language processing (NLP). This makes it possible for machine learning to analyze human languages and consistently produce nearly faultless text.
NLP software was developed using OpenAI, which enables us to produce outstanding long-form articles and copywriting for websites.
AI copywriting is one of the major use cases of NLP technology. It helps generate authentic ideas for copywriting by analyzing website content like articles, blogs, social media posts, e-books, and more. NLP also assists in filtering out unwanted or questionable content.
Can AI Write Better Copy for Websites?
Automatic writing may not be fully efficient just yet, but you can still get really impressive results from using AI as a copywriting tool.
Most copywriting tools do a fairly decent job of automatically writing readable copy for websites. However, some more advanced features are available in these tools, making them virtually undefeatable for writing great copy for websites.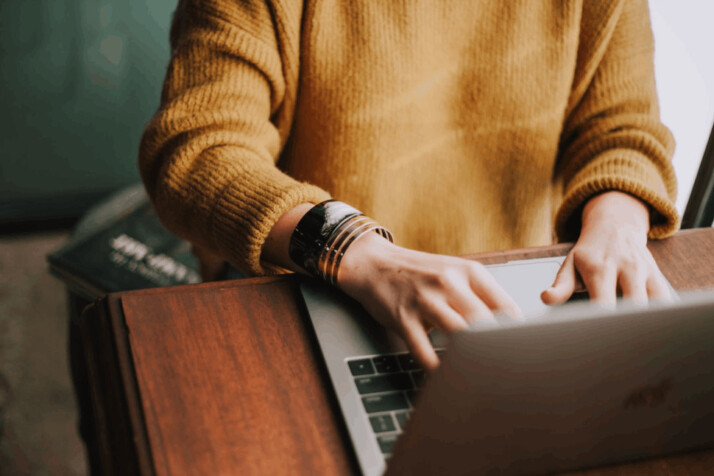 Does AI-Generated Content Need Human Touch?
AI copywriting is great but not perfect. After all, a machine can only generate content based on what you feed them. It cannot match the level of human sentiments or write content that evokes emotions. And triggering emotions is a key component of marketing.
Therefore, you must apply human creativity to your writing to suit your brand and audience well. Some AI-generated content can even have awkward phrasing and offensive content. Make sure to remove them if you encounter any.
Regarding SEO, do not use AI-generated content without giving it a human touch. This is because an algorithm update can cause you to lose search engine rankings and all the traffic from your site.
What to Look for in the Best Website AI Copywriting Tool?
To find the best AI copywriting tool that satisfies your expectations, you must consider what exactly you want from this software.
Whether you want long-form articles or sales copy, there are several features to look for in the best website AI copywriting software.
Here are the advanced features to look for when choosing an AI copywriting tool for your needs:
Produces SEO-friendly blog posts
Creates compelling sales copy
Finds content ideas
Integrates grammar & plagiarism checker
Equipped with text-improving features
Generate human-like content
Allows unlimited content creation
Writes all types of content, including Ad copy, blogs, and social media posts
Benefits of Using an AI Copywriting Tool
Artificial intelligence has taken the world of business by storm. Whether you are a business owner, content writer, or marketer, AI copywriting tools can help your content needs in many ways.
Here are some major benefits of using AI Copywriting Tools:
Helps to Overcome Writer's Block
Every writer, at some point, encounters writer's block where you are in the heat of the moment and out of time.
You desperately need something to get the words flowing and help you keep the momentum of your article or product going. An AI copywriting tool will ease your stress so that you can concentrate on the actual writing and make it count.
Saves Time and Energy
AI copywriting tools save time and energy as it automates the process of content creation. It generates the content from scratch with an AI bot.
This means you don't have to spend hours writing and rewriting content to ensure high quality. You can get some work off your shoulder and focus on other important aspects of marketing strategies.
Saves You a Lot of Money
AI copywriting tools will not just help you save time, but also save a lot of money. You don't have to hire expensive copywriters for high-quality marketing copies.
AI tools are better at making content suitable for various target audiences while ensuring that quality standards are always met. In fact, AI copywriting tools are a much more affordable option for doing almost the same job.
Used for Multiple Copywriting Needs
AI copywriting tools can be used to write blogs, landing pages, emails, sales pages, and more. Planning, editing, and even writing tasks can be improved with these tools.
These AI copywriting tools are not limited to any specific kind of writing. Therefore, it's safe to assume that whatever software you choose, it will serve multiple copywriting needs.
Conclusion
The technology is constantly evolving, making the market for the best website AI copywriting tools more and more crowded. For the sake of your business, you should invest the time to find the optimal tool for your specific needs.
Whether it's to overcome writer's block or save time and money, there are features you should look for in your best AI copywriting tool. Look for one that provides these and other factors that can help your business grow.
Explore All
Best Website AI Copywriting Articles