Website AI copywriting tool is a new and evolving tech that's changing the rules of marketing. Artificial intelligence can help you write concise and high-quality content much faster.
Whether working on product descriptions, Ad copy, blog posts, or website content, AI writing tools can significantly boost your output. To maximize your content creation potential, here are the best tools you can use to start writing compelling copy for your website.
What Is an AI Copywriting Tool?
AI copywriting is computer-generated writing that employs machine learning algorithms to generate content automatically.
An AI copywriting tool is a software program that uses Natural Language Processing (NLP) tools to create human-like content easily. These AI tools generate content by analyzing pre-existing content on the web to create something fresh and new.
You can use AI copywriting software to create blog posts, newsletters, sales pages, articles, product descriptions, and more.
AI copywriting is the perfect solution for many small businesses and entrepreneurs. It will provide them with high-quality content without spending a hefty amount on hiring a professional copywriter.
Benefits of Using Website AI Copywriting Tool
By utilizing AI copywriting tool, you can save yourself from pesky spelling errors and grammatical mistakes on your website. It lets you create more effective, professional, and engaging text.
You can entice potential customers and ensure that your copywriting is more impactful to get more clicks and shares. Here are some key benefits of using a website AI copywriting tool:
1. AI Produces Bulk Amount of Content Quickly
Regardless of how fast you type, creating copy always takes time. You need to come up with a fresh idea, do your research, and finally put everything together for a good copy.
With AI by your side, you can generate high-quality copy on demand at any time. You can create a bulk amount of content in a single day without worrying about running out of ideas. Using AI tools and templates, you can create both long-form and short-form content in minutes.
2. AI Is Less Expensive Than Hiring a Copywriter
Do you hire copywriters for your content marketing needs? It can be expensive when you pay by the word, the article, or the hour. You must also devote a large amount of time to proofreading for spelling and grammar mistakes. But not using AI!
With an AI copywriting tool, you can generate marketing copy and website content in seconds without spending too much.
3. AI Can Write Error-Free and Accurate Copy
Did you put much time and effort into writing something on your own or paying someone to write it? Then one of the most frustrating aspects would be discovering grammatical errors and poor sentence structure. It can make your copy look unprofessional.
You don't have to face this issue with an AI copywriting tool. This software can create well-written conversational content that reads and sounds professional. It won't have spelling errors or awkward sentences. You can fix grammar, rewrite or rephrase the content with the click of a button.
4. Less Stress and Anxiety Over Deadlines
Nothing hinders the creative process more than trying to meet a deadline. Wouldn't it be nice if you could spend less time stressing about meeting deadlines and more time concentrating on other elements of your business?
AI is used for routine, repetitive tasks that require a quick turnaround. When you have the flexibility to produce content whenever you want, you can simplify the process for both you and your company.
5. Rewriting Old Content in a Fresh Way
How often do you write content on the same or similar topic? Coming up with unique ideas every time can be challenging, especially when you have to create tons of content.
With AI, there is no limit to the amount of content you can produce. Therefore, if something needs to be repeated but in new ways, this would be the ideal option.
AI makes rewriting previous content or creating numerous original pieces on the same subject simpler than ever.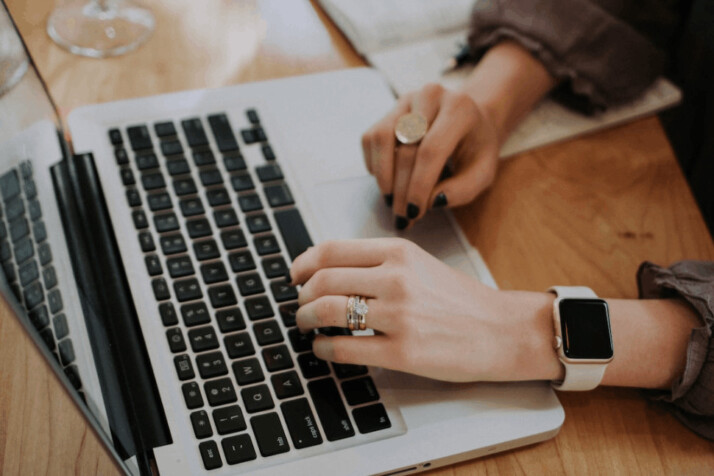 3 Best AI Copywriting Tools for Websites
AI copywriting tools employ advanced text analysis and writing patterns to replace the tedious copywriting process.
These tools make writing more friendly, helpful, and accurate with the help of advanced text analysis and writing patterns. With AI copywriting tools, you can perfect your content strategy, write effortlessly, and publish high-performing content.
Here are the top three AI website copywriting tools to try out today:
INK
INK is an intelligent editor which is perfect for writing SEO-friendly content that drives more traffic to your site. This AI-powered tool uses GPT-3 technology and natural language processing to produce human-like content in terms of style, tone, and structure.
The in-built SEO scoring system provides real-time insights to ensure that your content ranks higher in search engines. It constantly scans your text for SEO errors like too lengthy sentences or overuse of passive voice. You can write, rewrite content, shorten complex expressions, and expand the text with the click of a button.
The integrated grammar checker suggests you fix spelling errors. INK makes your content flawless in terms of SEO and accuracy.
Key Features:
Advanced AI-based tool to paraphrase the content
AI Writer assistant to generate unique and original content
SEO features to ensure keyword optimization for search engines
Team Manager to easily work on projects with team members
Headline Optimizer to write engaging headlines and attract readers
Jasper
Jasper is one of the most popular and high-demand AI writing assistants to streamline the content-creating process. It will help you generate content significantly faster than your usual pace.
The tool is very user-friendly. All you need to do is input your text and let the tool generate the content for you. Jasper can complete not only sentences but also small blog posts and entire chapters. With Jasper, you can overcome writer's block and create unique content in no time.
Key Features:
Recipes: AI-generated templates for different types of writing
Understands 25+ languages besides English
Easy-to-use content editor
Allows SurferSEO integration for better SEO content
Copy.ai
Copy.ai is another popular and premium AI copywriting tool to experience the full power of AI in content generation. It employs an advanced machine learning GPT-3 model to create high-quality human-like text and eliminate writer's block.
The tool is simple to use and offers a range of AI templates for your content marketing demands. Just provide the tool some context with a few sentences, and AI will generate multiple text versions. You can select the best variation and slightly edit it according to your needs.
Key Features:
Offers a free version to experience its unique features
Features over 90+ AI copywriting tools
Offers 100+ AI templates to accomplish what you need
Translates to over 25 languages making communication easier
Long-form content editor to write blog posts that ranks on Google
Easy to use interface for a great user experience
Conclusion
AI copywriting tools really should be the path forward for any website that wants to stay competitive in its search engine optimization plans.
A website AI copywriting tool has the ability to generate accurate, error-free, and timed content for exponentially less cost than hiring copywriters. This article explains the benefits of AI copywriting software and lists the top three tools in the market today.
Explore All
Website AI Copywriting Tool Articles