A marketing strategy is a course of action to promote and sell a company's products or services. A successful marketing strategy must balance quantitative and qualitative data to send out the strongest message to your target market.
This article covers some effective examples of a marketing strategy to maximize your returns.
What Is a Marketing Strategy?
Before we go in-depth with the marketing components and examples, it's important to understand the concept of a marketing strategy. We must realize how it can improve advertising which, as a result, improves sales and revenue.
Simply put, business marketing strategies are a tool used by marketers to describe their numerous campaigns and marketing models. It is the method through which you will pique consumers' interest in your goods and services.
You must undertake the following four things to develop a successful marketing strategy:
Understand who your ideal customers are on a regular basis.
Look for ways to encourage these people to continue buying your products.
Know your competitors and what they are doing to accomplish similar goals.
Learn how to evaluate the effectiveness of your marketing initiatives and campaigns.
How Is a Marketing Strategy Used?
A marketing strategy is a number of decisions about how the product will be communicated to customers, marketed, and sold. Businesses develop marketing strategies to increase consumer awareness of their goods and services.
By developing a marketing strategy, a business can expedite product development and establish clear goals. Companies can then focus their campaigns on the futuristic path to attract consumers who are more likely to purchase their products and services.
Components of a Marketing Strategy
Marketing strategies make up the company's value proposition, core brand messaging, and information on target customer demographics. The core strategy components, referred to as the four Ps of marketing, are as follows:
Product:
Developing a marketing strategy requires an understanding of the product. A marketing strategy outlines the product or service that a company is providing, along with details like warranty and functionality.
Price:
The price is the amount customers are willing to pay for your product. The business features the price they want to use for their product as well as wholesale, seasonal, bundling, and price flexibility issues.
Place:
Place refers to the location of the product, including its availability online and in physical stores, as well as how it will be displayed. Marketing strategies take into account transportation, warehousing, and the location or distribution of the goods for delivery.
Promotion:
The company makes plans on how to market its goods using strategies including public relations, advertising, and sales promotion. The objective of promotion is to convince the consumers that they need the product and it is reasonably priced.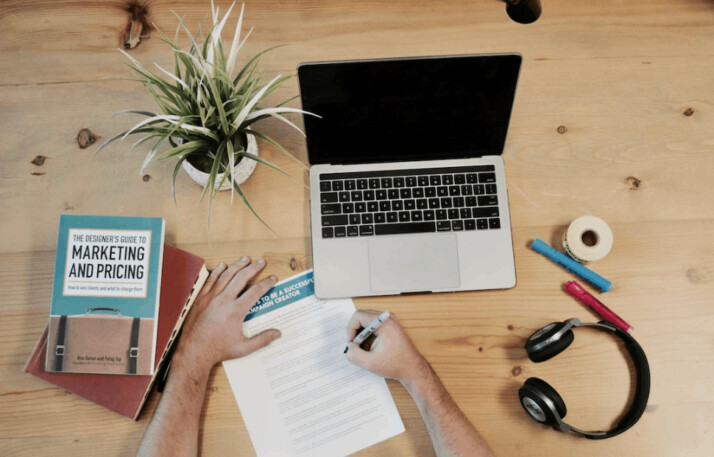 Effective Types & Examples of a Marketing Strategy
Businesses can use a variety of marketing techniques when trying to attract customers. It is based on customer demands and business needs. Below are some of the most common types and examples of a marketing strategy:
Social Media Marketing Strategy
Social media marketing has been the most effective way for most companies to market their brand and increase revenue. No matter what industry you're in, social media can be an integral part of your strategy.
The challenge comes with keeping up with the consistently changing currents of social media marketing. Companies need to understand today's and tomorrow's changing landscape. So they can produce a successful marketing strategy to maximize their impact on the market.
Email Marketing Strategy
Anyone who has ever said that an email is a dead form of marketing is completely wrong. A big aspect of your marketing strategy should be collecting your customers' email addresses and browser information.
This is a great method to keep in touch with those who have shown interest in your brand. Email marketing tools can help you a lot in this area. But you still need an efficient email marketing strategy to produce regular, captivating emails that turn readers into purchasers.
Digital Marketing Strategy
Digital marketing probably doesn't even need any introduction. This marketing plan will cover your online advertising, SEO, lead generation on social media, performance marketing, and other activities. In other words, if it's online, your digital marketing strategy should cover it.
Content Marketing Strategy
Content marketing strategy overlaps with an inbound marketing strategy, but content marketing is more specific. Using content marketing tactics, you concentrate on creating content that will engage readers and pique their interest.
It mostly covers blog posts and white papers but may also overlap with social media marketing. Essentially, any part of your marketing campaign that calls for content requires an effective marketing strategy in place.
Editorial Strategy
For advertising agencies, adopting an editorial strategy is especially important. It outlines the content formats, procedures, and channels of distribution you'll employ to meet your marketing goals.
It's comparable to the kinds of marketing strategies you might anticipate finding in a news or media organization. And it can be crucial for brand publishers or advertisers to maintain the focus of their marketing initiatives.
SEO Strategy
All diverse marketing methods should include SEO. It would be beneficial to devote some of your marketing efforts, specially dedicated to SEO. This is because SEO is likely to be your main source of lead generation.
SEO is the technique of leveraging keywords and phrases to increase your visibility when users search for relevant terms on the internet. SEO should be your top priority in your digital and content marketing efforts. It is perhaps the best approach to increase website traffic.
Naturally, SEO considers various factors besides keyword optimization to improve your search engine results pages (SERPs). Therefore, it's a good idea to have someone focused on the most recent SEO trends to get a Google page one ranking.
Conclusion
A marketing strategy is a company's method to create, develop and promote its product to customers. Effective strategies are composed of many elements, including the product, price, place, promotion, and marketing strategy itself.
If you want your marketing strategy to succeed, you need to start by deciding on your mission. Decide who you are targeting, your goals for each approach, and what you are trying to achieve. You also need to learn about the different marketing types to know what you need to adjust.
This article is a quick guide to help you understand the different aspects of an effective marketing strategy for your business.
Explore All
Marketing Angles Articles